In The Redhead Plays Her Hand (Redhead #3) by Alice Clayton, Life is looking up for actress Grace Sheridan. She's in love with sweet and uber popular British actor Jack Hamilton. She's back in L.A., the city she loves, in her own bungalow in the canyon. And last but not least, Grace is the lead actressin a hip new television show, collaborating again with her dear friend Michael.
'I used to be so shy about my body being on display, but falling in love with Jack had been the best confidence booster ever. If he loved my body, shouldn't I?'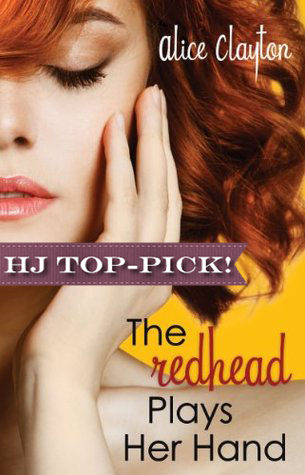 One would think Grace would be on cloud nine, right? But the double standard of being a 30+ year old woman in Hollywood comes back to bite her when she's told she needs to drop weight for her starring role. This comes on the heels of Grace finally feeling comfortable with herself for the first time in many years. Determined to do what is required for her role, she makes necessary changes, but not before word spreads of her struggle. Grace must decide how to handle her growing popularity as well as the backlash she and Jack receive as their careers take off. Will fame prove to be a bit too much for them to handle?
"I'm so in love with you, Grace." He looked down at me, my sweet, broken, wonderful boy. "And I'm dying to kiss you."
I raised up on my tippy toes as he leaned down. "I'm kind of dying for you to kiss me."
I am so sad to see this trilogy end! I simply love, love, love Grace (Nuts Girl/Crazy) and Jack (George/Sweet Nuts)!! I will miss reading about their crazy antics with their friends and castmates but as bittersweet as it is to see it end, I loved how the series was finalized. Let's just say there was a HEA for all the major players!
"That's five."
"What's five?" he asked.
"You called me old. Every time you say something about frown lines or being old in general, that's five orgasms you owe me, got it?"
The writing was just as fresh and sassy as ever in book three of the Redhead series. Alice Clayton's writing voice is one that I never seem to tire of. She makes me laugh, cringe, yell at the characters and cry. She happily surprised me this time as well with a plot twist involving two equally charming secondary characters. My hope is that it may possibly open the door for a spinoff…*fingers crossed*
I love how honest Grace's character is as she narrates the story and how she's decided to deal with issues as they happen now instead of filing them away for later. What started as a mortifying issue with her weight being discussed so openly (Operation Cheekbone as she calls it) slowly becomes a way for women to connect with her and she embraces the opportunity to be a positive voice in Hollywood. Such a relatable topic! Who hasn't struggled with their body image at some point in their life?
It was also quite interesting to see what it could be like as an actor gaining popularity and having to deal with the trappings of fame. Poor Jack is so young to be thrust into the spotlight. I can imagine how intense it would be to deal with everything. Figuring out who to trust, who's just trying to ride your coat tails, having to dodge paparazzi everywhere…it would be exhausting. But Grace is there to help Jack stay as grounded as is possible in their profession. They're still struggling with keeping their relationship under wraps which again creates tension and causes them to make a decision how to handle it going forward.
I really can't recommend The Redhead Plays Her Hand enough. Or the entire Redhead series, for that matter. It's super sexy, in-your-face-honest, fun and emotional. I'm going to miss getting my Grace and Jack fix. *sniff sniff*
Book Info:

HJ Top Pick
Published December 17th 2013 by Gallery Books
Grace's star is on the rise with a new TV series, but then the director asks her to lose fifteen pounds. When she goes public with her struggles with weight, she suddenly develops a huge fan club of people who are happy to see a curvy actress speak up, and she becomes a flashpoint in society's ongoing conversation about what's beautiful and what Hollywood's responsibility is to portray women of all shapes and sizes.
Meanwhile, Jack is voted the Sexiest Man Alive and becomes a little too enamored with the star lifestyle. But while he can have anything he wants, he can't have the one thing he really needs: a public relationship with Grace, which his manager says will hurt his career. When Jack begins to spiral downward into parties, booze, and Hollywood brat behavior, it's time for Grace to set him straight—and maybe dare to walk the red carpet together, hand in hand.