In Second-Chance Seduction by Kate Carlisle, Connor MacLaren and Maggie Jameson are reunited after ten years.They parted on a bad note due to misconceptions from both sides. Connor believes that Maggie left him and Maggie believes that Connor chose his love for extreme sports over her.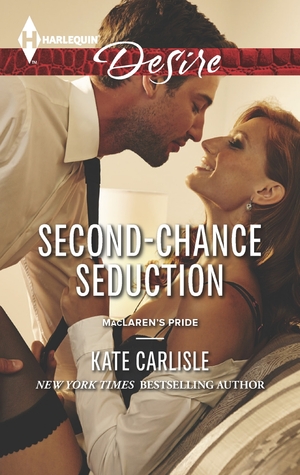 When Maggie is back in their California town after leaving behind an unfortunate past, she approaches Connor with a professional deal because she is in dire need of money. Connor has still not forgotten the heartbreak Maggie caused him and therefore he decides to get her out of his system once and for all by convincing her to pose as his girlfriend for one week if she wants the money.
Agreeing to temporarily pose as Connor's girlfriend is déjà vu. After only a few minutes alone with the rugged Highlander, Maggie's breathless with desire. Of course, this was Connor's intention…until his plan backfires, leaving them both wanting much more.
Second-Chance Seduction by Kate Carlisle was an enjoyable read which kept me hooked throughout. There was a storyline with relatable characters who are really easy to like.There was enough witty dialogues and steamy chemistry between the characters to keep me interested and the best think was nothing was overdone. The only thing I found weird was the out of the blue kiss they shared when they came face to face the first time and Maggie's reaction after the kiss was even more weird.
Overall Second-Chance Seduction by Kate Carlisle is an enjoyable read which does not fail to entertain you. With a well written story with relatable characters, this one's worth a read.
Book Info:

Published December 3rd 2013 by Harlequin
Her first love is her last hope…but for him, it's payback time in this MacLaren's Pride novel from New York Times bestselling author Kate Carlisle.
Connor MacLaren never forgave Maggie Jameson for leaving him. Ten years later, his former sweetheart's back in their California town, desperate for the Scottish businessman's help. And he knows just how to get her out of his system once and for all….
Agreeing to temporarily pose as Connor's girlfriend is déjà vu. After only a few minutes alone with the rugged Highlander, Maggie's breathless with desire. Of course, this was Connor's intention…until his plan backfires, leaving them both wanting much more