The Right Mr. Wrong by Natalie Anderson is more like a novella, but delightful all the same. The latter half of the book contains  The Wedding Dress Diaries by Aimee Carson.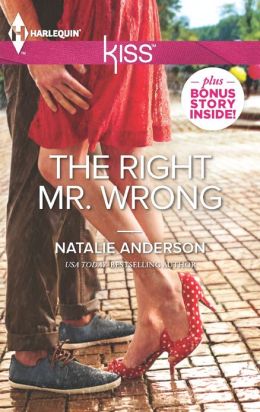 Victoria had things settled. She was about to be engaged to a lovely man whom her family adored. But standing in the way was his best friend, Liam. After a run-in with him in the hallway – while she was clad only in a towel – she had a hard time concentrating on her fiancee Oliver. As her safe, steady boyfriend takes to one knee, she panics. She knows this isn't right. One look at Liam and he knows – they're out the door and on the run.
Liam threw away almost his entire life for Victoria, and that meant he had to work harder to keep her. But it ended up driving her away. After an impulsive and steamy romance, she was gone – leaving him to pick up the pieces in every part of his life. He spent years rebuilding his reputation and became successful in spite of her betrayal.
Vivi, as she rebranded herself, knew when she left Liam she had nothing to return to. She saw how her parents had shut out her sister, and figured she deserved the same. She struggled until she found a job as an assistant to Gia, a high-strung designer. Gia needed someone, and Vivi pushed herself into that mold. It wasn't hard, it was grueling – but she was good at it.
When Liam finds her five years after she left him, he wants to confront her. Let her know he got over her, not only mentally, but financially as well. He hires Gia's models to do a photo shoot on one of his boats, knowing 'Vivi' will have to be the liaison between them.
Little did either of them know… the feelings they had for each other couldn't be pushed away. Liam finds out that Victoria wasn't as much in his past as he thought. They also find out that life wasn't a bed of roses for either of them after they parted – not that they understood that at the time.
Against his will, he's pulled into Vivi's new world, and compelled to set things right. And in doing so, maybe they can recapture some of the passion they had when they escaped all those years ago.
Because this story is so short, it's hard for me to review. I really loved it, but as in the case of most novellas, I feel like I wanted more when I reach the end. The characters were vivid and brightly portrayed, and I liked both of them. I wasn't enamored with Gia, but I don't think we're supposed to be. All in all, a good read, and it wouldn't hurt if you keep going and read the second story included. Another quality KISS read.
Book Info

Publication Date: May 21, 2013 | Series: Harlequin Kiss (Book 17)
"Will you marry me?"
Isn't that the question every girl dreams of hearing? Victoria certainly used to think so. And safe, steady Oliver seemed perfect husband material. But that was until she met Liam, his rebellious, scorchingly hot best friend. Suddenly Victoria's feeling things—crazy lust-fueled things!—she's never felt before. But for the wrong guy… Then Oliver goes down on one knee, and it's decision time—head or hormones?
Victoria's about to discover the truth about guys like Liam—once you go bad you never go back!
Extra bonus: included is The Wedding Dress Diaries by Aimee Carson, the prequel to our fab new quartet!