In The Rosie Effect (Don Tillman #2)by Graeme Simsion, Don Tillman has seen a significant change in his life since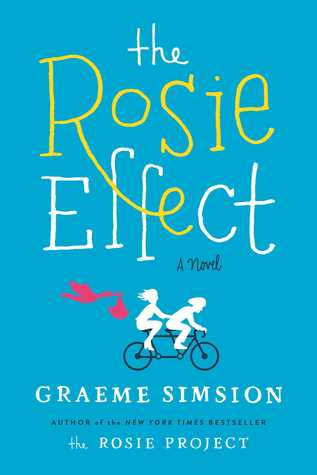 falling in love and marrying Rosie Jarman. Not only has he thrown his Standardized Meal Plan by the wayside, but he has found out that he is capable of having real feelings. Acclimating to their new life in New York City has been an adventure, one that Don is certain has only been enhanced by Rosie thus far. But the changes are still happening. And the one that is going to alter his life the most? Rosie is pregnant.
"So your job for the next nine months is to make sure I don't get stressed. Say it: 'Rosie must not get stressed.' Go on."

I repeated the instruction. "Rosie must not get stressed."

Actually, I'm a bit stressed now. I can feel the cortisol. I think I might need a massage to relax me.
Armed with a copy of What to Expect When You're Expecting, a new virtual spreadsheet in his office/bathroom, and a menu plan to help Rosie stay healthy, Don sets off in his own unique way to become a father. But keeping stress out of Rosie's daily life proves to be confounding and most challenging. It seems that the more facts Don tries to keep quiet, the more complicated the situation becomes. After he has a run in with the police, risks consequences that may affect his career, has to undergo therapy, and has to possibly move apartments, Don worries how to keep it all from Rosie. But maybe he should be wondering what Rosie is keeping from him.
'Once again, I was struck by her extraordinary beauty and inexplicable decision to select me as her partner. And, as always, that thought was followed by an unwanted emotion: an intense moment of fear that she would one day realize her error.'
The Rosie Effect is the sequel to the super popular novel The Rosie Project. Here we find Don and Rosie in wedded bliss, living in NYC, facing some major challenges ahead. Think their quirky relationship can survive the test?
'Once, there had been no secrets in my life. And my relationships, albeit few, had not been in danger. I suspected a correlation.'
Overall, The Rosie Effect was a solid novel. I'm so happy that Don was as wonderfully analytical as ever, but this time it was Rosie that I found myself perturbed with here and there. Mainly with the choices that she made. In the first book I found myself wishing Don could just show his emotions, for Pete's sake! But even though he also makes some poor decisions this time around, he went into them with the sole intent of reducing Rosie's stress and making life easier for her. My frustration with Rosie was that she didn't seem to have the same presence of mind when making her choices. Although, by the end of their story, it became clear where her head was at, so I'll forgive her. This time. 😉
There were so many facets to the plot here, which I thought was great. Several new characters were added that helped enhance the story. And they all really did add something unique to each scene. Don came a long way as he navigated his new marriage and with the impending birth of B.U.D, or their Baby Under Development. I just loved his anagrams and the titles he gave every situation. I'm glad Mr. Simsion kept that going and didn't get rid of that quirk as Don changed some things about himself. I also thought the writing itself was just as straightforward, keeping that intellect with a sense of humor alive on the pages.
If you're already a fan, I hope you check out what happened next for Don and Rosie in The Rosie Effect. They had some tough times to get through, but I'm sure they'd say it was worth it for the terrific HEA they get in this entertaining novel.
Book Info:

Published December 30th 2014 by Simon & Schuster  | (Don Tillman #2)
The highly anticipated sequel to the New York Times bestselling novel The Rosie Project, starring the same extraordinary couple now living in New York and unexpectedly expecting their first child. Get ready to fall in love all over again.
Don Tillman and Rosie Jarman are back. The Wife Project is complete, and Don and Rosie are happily married and living in New York. But they're about to face a new challenge because; surprise!;Rosie is pregnant.
Don sets about learning the protocols of becoming a father, but his unusual research style gets him into trouble with the law. Fortunately his best friend Gene is on hand to offer advice: he's left Claudia and moved in with Don and Rosie.
As Don tries to schedule time for pregnancy research, getting Gene and Claudia to reconcile, servicing the industrial refrigeration unit that occupies half his apartment, helping Dave the Baseball Fan save his business, and staying on the right side of Lydia the social worker, he almost misses the biggest problem of all: he might lose Rosie when she needs him the most.
Graeme Simsion first introduced these unforgettable characters in The Rosie Project, which NPR called 'sparkling entertainment along the lines of Where'd You Go Bernadette and When Harry Met Sally; The San Francisco Chronicle said, 'sometimes you just need a smart love story that will make anyone, man or woman, laugh out loud. If you were swept away by the book that's captivated a million readers worldwide, you will love The Rosie Effect.'