In The Royal We by Heather Cocks and Jessica Morgan, the love story of Nick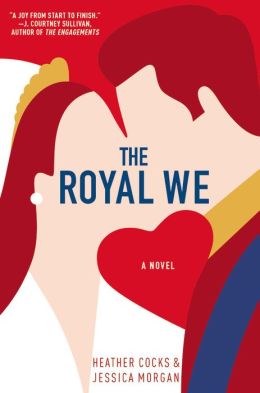 and Bex is told from their first meeting up until the eve of their wedding. Rebecca, or Bex, recounts the truth of their story and hitting the highlights of their eight-year relationship. They first met when Bex arrives in Oxford as an American exchange student from Cornell. Bex is an independent woman who wants to have fun in England while pursuing her love of art. She struggles with homesickness, especially as it's the first time she's ever been so far away from her outgoing and charming twin sister.
Bex and Nick begin as friends and bond over crappy American tv. Nick loves that he can just be himself around Bex instead of his royal persona. They begin to spend more time together and less time with other romantic interests. Their connection was clear to everyone in their close-knit group of friends and they finally became a couple.
"It's almost worse to miss someone when they're standing right in front of you." He shot me a sideways look. "I used to feel that way about you, sometimes. When we were at Oxford and I wanted so badly to reach out and touch you, and I couldn't because you were with Clive and I was with India. It was like I missed you even though I never had you."
Due to Nick's royal status, they kept the relationship quiet until they were outed. While finally being able to be out in the open about their relationship was a relief, the relentless pressure and endless headlines created their own problems. Bex never dreamed of becoming a princess, so finding herself engaged to a prince was never a dream of hers. Being public meant trading one set of troubles for another and squarely put Bex in a spotlight that she was unaccustomed to. Mistakes are made while they try to find their footing as Nicholas and Rebecca. While they are in love, the question becomes can they handle the pressures and weather the storms together while retaining at least a piece of themselves.
The Royal We is an entertaining Cinderella story of the American girl who lands a prince. While there is an ending, the end wasn't fully resolved and felt incomplete. I would have loved to see what happened the next day after the ending. Heather Cocks and Jessica Morgan spun an interesting tale that is quite reminiscent of Will and Kate's own HEA. Ms. Cocks and Ms. Morgan also provided an engaging group of friends and siblings for some humor and drama. Fans of royalty and underdog storylines would enjoy The Royal We.
Book Info:

Published April 7th 2015 by Grand Central Publishing
"I might be Cinderella today, but I dread who they'll think I am tomorrow. I guess it depends on what I do next."
American Rebecca Porter was never one for fairy tales. Her twin sister, Lacey, has always been the romantic who fantasized about glamour and royalty, fame and fortune. Yet it's Bex who seeks adventure at Oxford and finds herself living down the hall from Prince Nicholas, Great Britain's future king. And when Bex can't resist falling for Nick, the person behind the prince, it propels her into a world she did not expect to inhabit, under a spotlight she is not prepared to face.
Dating Nick immerses Bex in ritzy society, dazzling ski trips, and dinners at Kensington Palace with him and his charming, troublesome brother, Freddie. But the relationship also comes with unimaginable baggage: hysterical tabloids, Nick's sparkling and far more suitable ex-girlfriends, and a royal family whose private life is much thornier and more tragic than anyone on the outside knows. The pressures are almost too much to bear, as Bex struggles to reconcile the man she loves with the monarch he's fated to become.
Which is how she gets into trouble.
Now, on the eve of the wedding of the century, Bex is faced with whether everything she's sacrificed for love-her career, her home, her family, maybe even herself-will have been for nothing.