In French Coast by Anita Hughes, When Serena found out that she would have the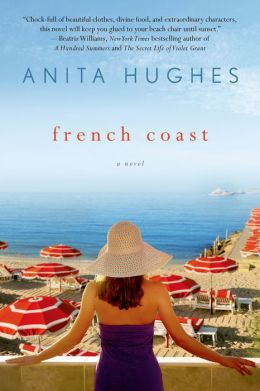 chance to write the memoir of Yvette Renault, the retired editor of Vogue in France, it looked like her dreams were coming true. Work at the Vogue office in San Francisco was going well and she even just got engaged to the love of her life, Chase. Who knew that as soon as she stepped foot off the plane in France, her life would do an about-face?
"Luck is everything. If you're not in the right place at the right time you might miss the person you're supposed to spend the rest of your life with."
Problems plague Serena while in Cannes. Her personal life falls apart. Her family is at odds. Her saving grace is how intriguing Yvette is during their time while she reminisces, and meeting Zoe at the hotel, and local hottie Nick. Serena's world feels like it's out of control. But with some friendly advice from a woman who has made mistakes and learned from them, she slowly starts to put the pieces back together. And the result might just be better than where Serena started.
"Real love doesn't happen often, and when it does you have to embrace it." Yvette looked at Serena and her eyes were dim. "After all, what else is there?"
French Coast is a novel that will whisk you away to a beautiful locale while making you drool over the high end fashion and the luxury that abounds. Oh yeah…and there's also some romance in these pages, too!
For me, this novel was pure escapism. It is so far removed from my everyday life that it was like walking into a whole new world when I was reading about Serena's time in the Cote D'Azur. For fans of all things fashion, Anita Hughes' impeccable descriptions of the clothing, the shoes, the accessories, the food, even the hotel, will make you swoon. There might have been times that it seemed a bit too much to me, but then of course this was set in Cannes, France. How could those details not take center stage?
Overall, I liked the majority of the characters and thought the plot was inventive. Especially the twist at the end. Did not see that one coming! Serena ended up being at a crossroads of sorts while on her business trip, both personally and professionally. A lot of it revolved around her family and her fiance. It was interesting to see her new acquaintance Zoe also going through a similar situation, so they bonded as friends pretty quickly. I actually really liked Zoe and thought she was quirky-cute.
The other part of this story that captured my attention was Serena's interviews with Yvette while she was gathering information to write Yvette's memoirs. The love story between Yvette and Bertrand was quite scandalous in some ways, but also a bit sad, as well. She becomes wrapped up in Serena's current problems and it was interesting to see where everything wound up.
Feel like taking a trip to Cannes? Romance fans will get swept up by the excitement, the deceit, and the happy ending in Anita Hughes' latest offering.

Book Info:

Published April 7th 2015 by St. Martin's Griffin
Serena has the job she's always dreamed of and Chase, the man her heart never dared to. As a new editor at Vogue, she bags the biggest interview of the year with Yvette Renault, the infamous former editor of French Vogue, in The Carlton-InterContinental Hotel during the Cannes Film Festival. She eagerly jets off to France while Chase stays home, working with her father, a former senator, on his upcoming mayoral campaign.
Everything feels unbelievably perfect…until it doesn't. The hotel loses her reservation hours before her big interview. Serena fears that she'll have to go home without her story, but then she meets Zoe, a quirky young woman staying in the suite below Yvette's who invites Serena to stay with her. Serena is grateful for her mysterious roommate's generosity, but it seems that there's more to her story than meets the eye. To make matters worse, soon after arriving in Cannes, Serena learns a shocking secret about her parents' marriage, and it isn't long before she begins to question her own relationship.With her deadline looming and pressure mounting, Serena will have to use her investigative journalism skills, new friendships, and a little luck to get her life and love back on track. Fast paced and impeccably written,
French Coast will draw readers in to the intoxicating world of the Cote D'Azur. Hughes' beautiful prose and sense imagery bring the food, fashion, and feel of the ocean to life in this audacious new novel.