The Santana Heir by Elizabeth Lane is a rich and compelling romance that will tug on your emotions. Elizabeth Lane writes with sparkling clarity and depth. You are going to want to add this exquisite tale to your summer reading list!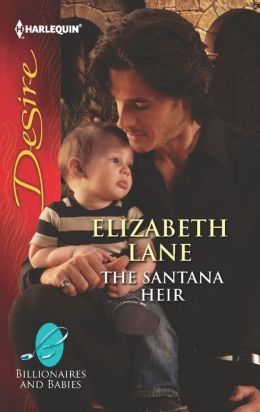 It was Grace Chandlers stepsister's dieing wish that she adopt her son, Zac. With the adoption about to be finalized, life is looking up for Grace and Zac. That is, until Grace receives a visit from the child's uncle, Emilio Santana.
Emilio has recently learned that his late brother sired a child. Emilio believes that Zac is the rightful heir to the Santana legacy and he insists that Zac belongs with him in his home country of Peru. Realizing that separating Grace and Zac will not be a good thing, Emilio invites Grace to come to along as well.
Grace is not about to let Zac leave the country without her, so she agrees to leave her life in the states behind. It isn't long before Grace and Emilio become attracted to one another. But Grace has been burned in the past and she has a hard time trusting Emilio. Emilio has lived the playboy lifestyle and he isn't sure he is ready to settle down.
Will these two stand a chance at love when unforeseen circumstances threaten to tear them apart?
At first Emilio comes across as a domineering jerk. It doesn't take long before he redeems himself though. His warmth and thoughtfulness are apparent in the nurturing way that he treats Zac. His respect for Grace shines through when he refuses to take Zac away from her.
Graces loyalty and love for Zac are always on display. She is willing to give her whole life up for her son. I had to admire her for taking off to Peru and starting her life over in a foreign country. It takes her a while to give into her desire for Emilio, but when she decides to give her heart away, she does so with everything she has.
I enjoyed The Santana Heir very much. The story moves along at a good pace and the characters are well drawn. I enjoyed the exotic locale with its breathtaking scenery. The romance between Emilio and Grace is super hot. This is a good solid tale, that your not going to want to miss!
Book Info
Publication Date: July 1, 2013 | Series: Harlequin Desire (Book 2241)
"I'm Trying to Be Honorable, Grace. I Advise You Not to Push Me."
He has money, power and a blood connection. How on earth did Grace Chandler think she could fight Emilio Santana for custody of her stepsister's baby? As Emilio's orphaned nephew, the boy is, after all, the last Santana heir.
Grace isn't about to let the child travel overseas without her and accepts the billionaire's offer to act as nanny. Soon they are in a more…comfortable relationship than either had imagined. There is definite passion pulsing between them, but desire without trust is a dangerous mix….