He Watches Me by Cynthia Sax: I'm going to have to say that this is something of a weird one. It wasn't bad but it was a little strange. I mean, from reading the blurb you know that Gabriel digs watching Anna via his security cameras. He's watching her as she swims in his pool. And he's watching her as she masturbates all over his pool and patio area. Why? I'm still not sure.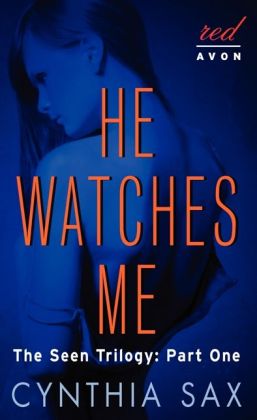 Anna is not your normal heroine. The first thing I noticed about her was that she was flat broke. I mean, in one scene, she had a peanut butter sandwich from the free packet of peanut butter that came in the mail that day to the house she was house-sitting. It was hard for me read about that because, well, because it sucks! Not having money for lunch food? Not having money for anything extra? I just really didn't like that aspect of her character. It felt extremely real and not in a good way. I guess it's no fun to read about someone who is having a hard time making ends meet since so many of us live like this already. I found it to be distracting and I realized that I was worrying about her when I should have been getting hot and bothered about her time with Gabriel. Moving on, Anna works as a cold caller at some kind of a call center for a charity but its a really drab and unhappy place where she sits in the pit. It seems overly competitive between those people making calls to drum up donations and the whole thing felt really scam-ish to me. Anna has some kind of weird crush on one of the more successful callers who has his own office. She thinks of him like, "Oh he looked at me" or "Is he talking to ME?" Like she is so beneath him and its almost like she worships him. She talks about being invisible and how she feels better being invisible and it was just all too much. I don't know. To me, Anna seemed REALLY weird and that was before she started showing that she was an exhibitionist.
Not long after we got to know about Anna and her situation, we meet Gabriel. I really ended up feeling like Gabriel and Anna were a perfect match because he's such a mystery and he's a little on the strange side as well! It seems as if Anna has been skinny dipping in his pool since his house is next to the one she's house sitting in (apparently she's not allowed to use the pool at the house she's staying at?). Not just skinny dipping but also masturbating… for some unknown reason. Gabriel is watching her through the security cameras that he has installed at his house. So he sees her skinny dipping and masturbating and he really digs it. As it turns out, he's something of a voyeur! Yay for Anna! He ends up starting to watch her from the shadows instead of through the cameras and she's fine with that. I really liked that I didn't find out a lot about Gabriel. I think we get a little bit of his history, like way back history but not much more than that. He's some kind of computer hacker turned IT guru billionaire and some of that back history is not so innocent. But he seems drawn to Anna, as she is to him and I really think that he could end up being really good for her. I like that Gabriel is clearly a dominant kind of guy and that he immediately takes to Anna. He really seems to care about her and, to be completely honest, I don't care if it seems fast or without reason. I just love that he's just as into her as she is into him.
There is a lot of sensuality in this story but not really any sex. As much as reading about a woman masturbating doesn't really do it for me, I found that this book was pretty hot. And trust me, Anna masturbates kind of like its going out of style! But even without the sex, I loved all of the scenes between Anna and Gabriel. When Gabriel goes out of town for a business trip, I was missing him just as much as Anna was! LOL! Gabriel definitely brings out the good side of Anna, the confident side of Anna and that's always fun to see.
I did enjoy this story but there were a couple of issues that I had with it that prevented me from rating it any higher. First, I just found Anna to be a little too far on the weird side. I can handle weird or unusual but she was doing things that really made very little sense to me. Second, Anna's money situation was too distracting for me. Now, I know that this is probably only an issue for me but it really sidetracked me and I really WAS worrying for her and wondering how she would be able to get her next meal. Third, this is called Part 1 of a Trilogy but I think that's a bit of a misnomer. I think this is more like Part 1 of a serial that will end up being a whole book. Sure, that's a bit nitpicky of me but you should know by now that I don't love novellas.
Having said all of that, I think this is a very intriguing series and I will for sure be checking out the rest and will report back once I'm done with them!
Book Info
Publisher: Avon Red (July 2, 2013)
She desires to be seen. He wants to watch.
Anna Sampson has a naughty secret. Every night, she slips into her neighbor's yard and swims naked in his pool. She fantasizes that the dynamic young billionaire watches her nightly nude aquatics, his brilliant green eyes gleaming with lust.
She discovers this isn't pure fantasy. Gabriel Blaine has been watching her via his security cameras, and now that he has returned to L.A., he doesn't plan to stop. That's all he wants—to watch. Anna knows she shouldn't allow him and she certainly shouldn't want more, but she craves Blaine's attention, needing his gaze fixed on her body.
Part One of The Seen Trilogy