In The Second Chance Hero (Forever Love #4) by Jeannie Moon, Kim is a former army nurse working as a nanny. Since her fiancee's death in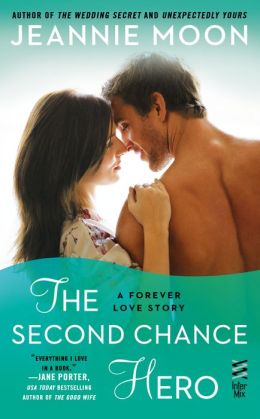 her arms in Afghanistan and the secrets that emerged just after, Kim has been unable to find it inside of herself to nurse or to trust again.
Owen is a Major in the Marines who was also in Afghanistan. After an encounter with a distraught nurse, he can't get her out of his mind. Now back in the US, Owen is shocked to find out that his friend's nanny is the woman he's often thought of over the year. He is just as attracted to her now as he was then. Kim feels a pull towards Owen, but there is no way she's putting her heart on the line again, especially to a military man. Kim doesn't remember meeting Owen before, and as he pursues her there is never a good time to bring it up. Kim is still dealing with her past, and Owen has a secret part in it.
With friends in common, Kim and Owen are seeing more and more of each other. Owen is slowly breaking through Kim's walls, and she is finding it harder and harder to resist him. Will Kim be able to finally put the past to rest and move onto the future? Or will the secret Owen is keeping push her away for good?
In The Second Chance Hero, Jeannie manages to pull an intriguing plot together that will pull at your heart with two strong main characters. Kim has suffered a lot in silence since the death of her fiancee. She keeps a lot to herself, trying to preserve his memory for his friends and family. To do this though, she suffers and hasn't been able to move on. I wish she'd had someone from the start who could have helped her. I found her character strong, because despite all her inner conflict and heart break, she was always thinking of others, trying to find a balance between what to say, or doing the right thing. I did not find her to be bitter and angry at all men in general which is also a true character strength. She just knew she could not go through the uncertainty of having a relationship with someone in the military, someone whose life would constantly be at risk. She knew she wasn't ready to risk her heart again. I really liked Owen. I could understand why he wasn't telling Kim everything. I felt like it added a neat twist to the plot that he knew something no one else knew about her. It helped him to understand her in a way no one else did. Owen is a total alpha but he takes his time with Kim…because he knows who he wants to be with. Owen and Kim have great chemistry and a great connection. Jeannie really made me care about Kim and Owen, and their issues made them realistic.
I liked the mix of secondary characters in The Second Chance Hero, and how Jeannie blended them in well with the plot.
The Second Chance Hero is part of Jeannie Moon's Forever Love series, but can definitely be read as a stand alone. I'd recommend The Second Chance Hero to romance readers who enjoy the emotional roller coaster of finding love again.
Book Info:

Published October 21st 2014 by InterMix | (Forever Love #4)
The eternal bachelor finally finds his match—if he can get her attention…
After her fiancé dies in her arms in Afghanistan, combat nurse Kim Torres decides to get as far away from men and the war as she can. Now a nanny to a little girl, she's trying to date again, but her heart just isn't in it. Not even for a man as sexy as Owen Kent…
When Major Owen Kent returns from his deployment with the Marines in Afghanistan, he discovers how much things have really changed. The billionaire CIO's friends are settling down and having families—things a serial dater like Owen doesn't expect to do. But he's also not expecting his friend Harper's new nanny to be the woman who stole his heart half a world away. Kim may want nothing to do with Owen, but he's not about to surrender without a fight.