The Secret He Must Claim by Chantelle Shaw is the first in a new series about the Saunderson family. It's a tale of high society, secrets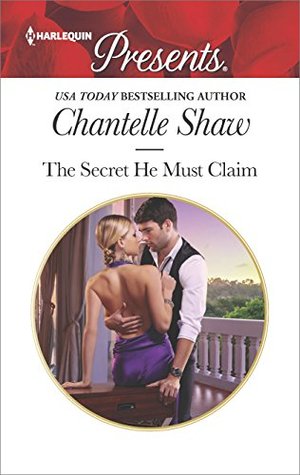 and passion. In this story, Elin and her brother Jarek were adopted as an orphaned brother and sister from war-torn Bosnia by the Saundersons. A new life of luxury and wealth awaited them, but the death of their adopted mother has thrown their lives into turmoil.
To protect her brother's reputation and job at Saunderson's bank, Elin has thrown herself into partying mode so as to attract the paparazzi to her and not to him as they cope with their mother's death. At a late night party with friends and others with not so good intentions, she meets a man whom she can't take her eyes off of – nor her him either. One night of passion and he's gone, but the consequences are life changing as Elin winds up pregnant.
A year later their adopted father has died and the man who hasn't left Elin's thoughts or memories is back. Cortez Ramos is ready to claim his rightful place as heir to the Saunderson fortune, as it turns out he is the natural born son of Elin and Jarek's adopted father! The will states that Elin must marry in order to claim her inheritance, and when Cortez finds out that Elin has a baby boy who is his son, he insists she marry him. A marriage of convenience will give them both what they want, but can it also lead to a happy ever after for them both?
I had some issues with this story right from the start, which made it a challenging read for me. When Elin and Cortez first sleep together she is under the influence of a date rape drug (administered by another man). Cortez believes she is just drunk and sleeps with her anyway, which didn't strike me as something a hero should do. Additionally when Elin becomes aware of what happened the next morning, she spends a fair amount of time being ashamed of having had sex and it comes up often throughout the story. I don't care for anyone calling someone who enjoys having sex a slut or a whore, and especially not when self directed. This made it hard for me to connect to the hero and the heroine of this story.
To her credit, Elin is a concerned and thoughtful mother and this makes up for some of the negative issues I had with the story. While it's Cortez's idea to go through with the marriage, he clearly cares a lot of the child and wants to be a good father to him. Cortez has a lot of negative opinions of Elin, believing her to be a drug addict because of the stories in the paper and not discovering the explanations behind some of her behavior until later in the story. It takes him a long time to get to the apology stage, but he does redeem himself in the end.
This couple definitely has their struggles but with the focus on providing a loving household for their son, they are eventually able to communicate better and resolve the issues between them. The sexual attraction they have for each other leads them to greater intimacy and in the end, a declaration of love and the knowledge that they are ready to be a truly committed couple to each other.

Book Info:
Publication: July 18, 2017 | Harlequin Presents | The Saunderson Legacy #1
An illicit encounter with the Spaniard…
Heiress Elin Saunderson is instantly seduced by mysterious stranger Cortez. But after their sinful night together she's left alone…and pregnant! A year later, she learns that Cortez is the rightful successor to her adoptive father's fortune, and penniless Elin finds herself at risk of losing everything—including her son!
Cortez Ramos is set on claiming the secret Elin kept from him—but Elin proves as protective a mother as she is a torturous temptation. His solution: demand a marriage of convenience, which will legitimize his heir and return Elin to his bed!