Bad Deeds by Lisa Renee Jonesis book three in the Dirty Money series and just like the previous two books, this one will keep you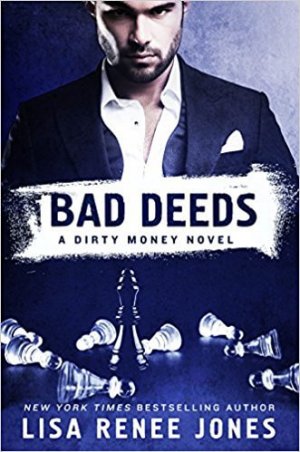 turning the pages. If you're new to this series, you need to start with book one, and if you have read the previous two books, I need you to buckle in, because this book is going to take you on a wild ride, with many ups and downs and twists you never saw coming. This book will leave you gasping and in desperate need for the next continuation. Lisa Renee Jones is a master at her craft and only she can turn my world upside down with a cliffhanger this big.
This story picks up where the previous one left off, with Emily having dinner with Shane and his family. His family, who always seem to have an endgame and does everything for a reason. The mother who is having an affair, the father who just dropped a major bombshell, and the brother, who keeps threatening Emily and will stop at nothing to have all the power. With a family like Shane's, you definitely don't need any more drama in your life, but that's exactly what everyone is about to get.
The passion between Emily and Shane is at all time high and one thing is for sure, they are definitely stronger together. But with the many threats against Emily, will Shane make a deal with the devil? Shane is determined to keep Emily safe, but at what cost? The story focuses on Emily and Shane, but the other characters play a pivotal role in their story and I can't go further into it without giving spoilers away…so I won't. Readers need to experience this one for themselves.
Bad Deeds, will leave readers with a heart-stopping cliffhanger that no one saw coming and I for one cannot wait for the next book. Highly recommended!
Book Info:

Publication: August 8th 2017 | St. Martin's Griffin | Dirty Money #3
Would you bleed for the one you love?
To save his family empire from the grip of the drug cartel, Shane is pushed to the edge of darkness, forced to make choices he might never make. His father is dying. His brother is desperate to rule the empire and this means war and all gloves are off. His brother only thought he knew what dirty meant. Shane is about to give it new meaning. There is another war brewing though, and that one, is inside him, his battle between right and wrong, light and dark, and in the heat of the night, it is Emily he turns to for escape. Driving her to new limits, pushing her to accept a part of him that even he cannot.
In every one of Shane's seductive demands, Emily can taste and feel, his torment, his struggle to save his family and not lose himself. But he is losing himself, and that is a problem just as dangerous as her secret, that still lurk in the shadows, a threat to the Brandon Family waiting to erupt. No matter where she and Shane have traveled, or will travel in the future, she can't just sit back and watch him become everything he hates, everything he never wanted to become, everything she tried to save him from when she tried to run. It could be their undoing, the end. His end.
This is war, blood will spill, and someone in the heart of the Brandon family will not survive….