The Secret Sanchez Heir by Cathy Williams is a sexy second chance romance for a couple whose time together was cut short by lies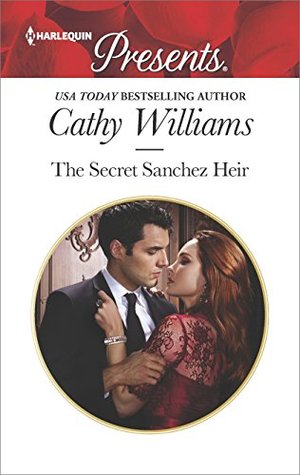 and deceit. When Leandro Sanchez had swept Abigail Christie off her feet after he'd seen her in one of his hotels, they'd enjoyed a steamy affair with no expectations. Still, Abigail hadn't been prepared for Leandro's sister Cecilia to sabotage their relationship. Cecilia had dug into Abigail's past and discovered she'd been sacked from a job for theft, a false accusation made by Abigail's boss when she wouldn't give in to his sexual advances. Instead of letting Abigail explain, Leandro had washed his hands of her. But unknown to him, there'd been consequences to their affair – in the form of their son Sam, now a ten month old happy baby.
Having been dismissed so thoroughly from Leandro's life and accused of being a gold-digger, Abigail had seen no reason to tell him about his son. But suddenly they are thrust into each other's lives again when the courier company Abigail is working for ends up with a delivery to Leandro's home, and directly into his hands. Leandro is shocked to see the woman with whom he had enjoyed a passionate affair, and still thinks about despite what he believes was a deception on her part. He can't deny that he still feels a deep attraction to her. And when he finds out about the boy, he proposes marriage out of a sense of duty to provide the best for his son. Can their second chance lead to a real and lasting relationship?
I enjoyed this story, and the passionate, turbulent relationship that Leandro and Abigail have. Leandro's sister Cecilia obviously plays a major role in the story, mostly because Leandro has been her guardian for years since their parents had died, and she feels threatened by other women who might take him away from her, especially woman who are in a different social class like Abigail. Despite her best efforts, Leandro and Abigail reconnect and this time around aren't so easily swayed from their desire to be together. Abigail is naturally hesitant to trust Leandro, but for the sake of their son she's willing to try. They share some passionate and sensual love scenes as they learn to trust each other again. Of course, it's not all smooth sailing and Leandro has some grovelling to do to make things up to Abigail, but the end result is a happy one for them with a sweet epilogue. If you like passion, drama, and lovers finding their way back together, you'll enjoy this story.
Book Info:

Publication: May 23, 2017 | Harlequin Presents |
"Marriage, Abigail. Like it or not, there's no other way."
Leandro Sanchez never forgot the beautiful virgin who lit a fire in him like no other—then betrayed him. When Abigail Christie appears on his doorstep, Leandro decides one last explosive night is the only way to get her out of his system. But Abigail has a secret…their son!
Leandro's discovery of the true consequence of their steamy nights leaves Abigail completely at the billionaire's mercy. The Spanish tycoon always gets what he wants, and now he's determined to legitimize his heir…by seducing Abigail into wearing his ring!