The Secret She Kept in Bollywood by Tara Pammi is so lovely I have read it twice. It's chocka with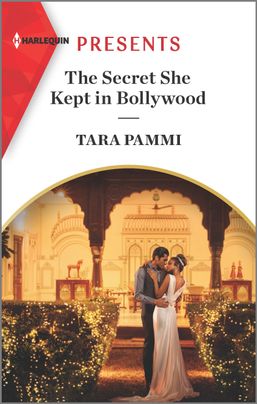 emotion, regrets, grief and endless love, a grand recipe for a Presents story.
Anya is the little sister of the powerful Raawal brothers; movie moguls of the Bollywood film industry. She's a wickedly talented costume designer and tasked with designing the wardrobe of the teen star for the latest film being made. Shocked to discover, on first sight, the teen star is the daughter she adopted, Anya is even more shook to discover who Anya's adoptive father is.
Widower Simon hates the film industry. He blames it for breaking his wife but the opportunity his daughter has is too important to ignore. Shocks a plenty when he comes across Anya after their illicit first meeting. Honest conversations are a common theme in this story and Anya follows her instinct and tells Simon about her connection with his daughter. A sense of normality in both of their worlds falls by the wayside and both Simon and Anya need to navigate their new world Anya's confession brings. Fighting their simmering attraction while trying to maintain normal appearance makes for brilliant reading.
So many questions arise. How will Simon's daughter be told? When will Anya's family be told? Would it be wrong for Simon and Anya to answer their attraction or would Simon feel Anya's not real? How will Simon and Anya have their happy ever after? What about the rumours Simon's already engaged? Tara Pammi answers all the burning questions while creating the beautifully dramatic Bollywood world. Creative richness oozes from the pages and I literally felt like I was watching a movie myself.
The hard and difficult life changing choice to adopt your baby is one that I can't imagine having to make and the way it is approached by the author was respectful and woven into a beautiful love story in a unique manner. I feel it was brave to use as the backbone of a Presents novel and having read this story twice I feel I enjoyed the love story even more the second time.
A beautiful and heartfelt conclusion to a richly dramatic mini series.
Book Info:

Publication: June 2022 | Harlequin Presents | Born into Bollywood #3
Celebrated Bollywood heiress Anya Raawal lives her life in the spotlight. And fiercely protects the secret of an impossible choice she was once forced to make. But when she meets magnate Simon De Costa, a shocking discovery sets them on a collision course…
Because Simon's adopted daughter is the child Anya had to give up! The connection between them is instant, yet it's clear the guarded widower buried his heart with his wife. Anya knows she can't walk away, but is there truly a place for her in this family?
Book 1: Claiming His Bollywood Cinderella
Book 2: The Surprise Bollywood Baby
Book 3: The Secret She Kept in Bollywood