In The Secret Sister (Fairham Island #1) by Brenda Novak, Maisey Lazarow thought she had left Fairham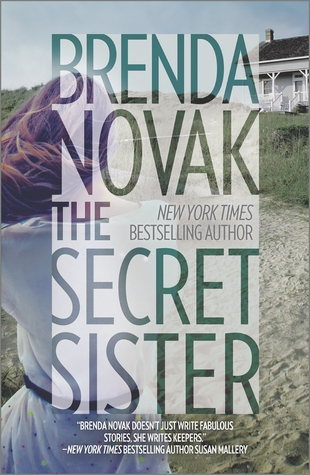 Island for good a decade ago. Starting a career as a writer and getting married, she no longer had to worry about her demanding mother. But Maisey's divorce finds her back on the island to help her brother Keith with his own struggles. Instead of kowtowing to her mother's wishes, she stays in one of the local beach houses her late father had built, not knowing that her new neighbor will be the first guy she ever slept with, Rafe Romero.
'So…who was this girl? And why were they grouped together, posing as if they were siblings? This couldn't be an older sister. She and Keith didn't have a sister. It was always just the two of them. Or had there once been three?'
Rafe and his young daughter Laney prove to be quite the distraction for still-healing Maisey. The attraction that develops between herself and Rafe is totally unexpected and throws her for a loop. But when a hidden box of pictures is uncovered during a construction project, Maisey and Keith begin the search for the girl who appears to be their older sister. The more memories and secrets that come forth, the more complicated the situation becomes for the Lazarow siblings.
"Maisey, stop. Quit trying to face whatever it is alone. Tell me. Trust me."
He could see the pain in her eyes despite the darkness. Something terrible was going on–something that ran deep.
"I can't trust anybody," she said. "Not with this."
How interesting of a premise is this story?! You just know with family secrets coming to light, local gossip, and a romance sparking between two former lovers, that this book just has to be sinfully good.
That Brenda Novak… Wow. Her stories, no matter what genre, always keep me captivated. And the Secret Sister was such a wonderfully moody novel with dark undertones, almost to the point of being Gothic without being over-the-top. I think the heartfelt romance between our protagonists was ultimately what kept the story from getting too dark. Although I did get completely swept away with the characters in their search for a secret sibling.
I loved that the setting was on an island, where books usually portray those small communities as that much more likely to gossip and hide secrets. I don't know that such is true in real life, but it definitely is in the literary world. Every character in this story was absolutely integral for Maisey and her brother Keith to figure out their past. It was a very delicate balance that Ms. Novak created and it worked perfectly.
On top of the mystery swirling around the Lazarow family, this was also a reunion story between Maisey and Rafe. I really liked them both, but fell especially hard for Rafe and his beautiful daughter Laney's relationship. Honestly, it was so precious that it brought tears to my eyes. While my heart went out to Maisey and the issues she was dealing with in her personal life as well, it was her brother and mother that got the biggest reaction out of me. I can't spill the details, but let's just say that they made me like and dislike them repeatedly.
If you're not already a fan of Brenda Novak, I think The Secret Sister will prove how talented a writer she truly is. With elements of mystery, family drama, and straight-up romance, this novel covers all the bases exceedingly well.
Book Info:

Publication: Published July 28th 2015 | by Mira | Fairham Island #1
Did she once have a sister? Has her mother lied all these years? Why?
After a painful divorce, Maisey Lazarow returns to Fairham, the small island off the North Carolina coast where she grew up. She goes there to heal—and to help her brother, Keith, a deeply troubled man who's asked her to come home. But she refuses to stay in the family house. The last person she wants to see is the wealthy, controlling mother she escaped years ago.
Instead, she finds herself living next door to someone else she'd prefer to avoid—Rafe Romero, the wild, reckless boy to whom she lost her virginity at sixteen. He's back on the island, and to her surprise, he's raising a young daughter alone. Maisey's still attracted to him, but her heart's too broken to risk…
Then something even more disturbing happens. She discovers a box of photographs that evoke distant memories of a little girl, a child Keith remembers, too. Maisey believes the girl must've been their sister, but their mother claims there was no sister.
Maisey's convinced that child existed. So where is she now?