The Sicilian's Bought Cinderella by Michelle Smart is an enjoyable and sexy romance for a couple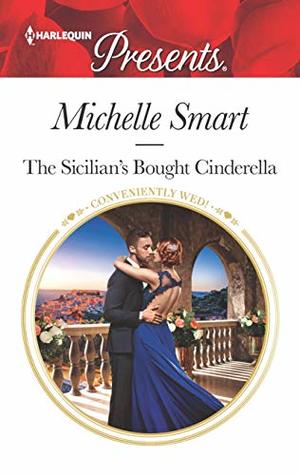 brought together by family ties.
Aislin O'Reilly has figured out a way to capture Dante Moncada's attention – by breaking into a cottage on his family estate and waiting for him to discover her! She's on a mission to make him aware of their unique family bond. Her half sister Orla, with whom she shares the same mother, has the same father as Dante, making Orla and Dante half siblings. Unknown to Dante, his father had been sending money for Orla but he'd since passed away.
Orla is in financial difficulty, her three year old son having medical issues and Aislin figures that her sister is entitled to some of the money Dante has inherited. When Dante does indeed find her, and Aislin explains their connection, he agrees to help her. But he's also in his own particular bind. A business contract is in danger of falling through if Dante can't show that he's mending his playboy ways and he makes a deal with Aislin. If she'll pretend to be his fiancee at a society wedding, Dante will pay her handsomely, on top of the money he's already promised for Orla. Aislin agrees and things are set in motion. But neither of them counts on how enticing playing at a fake engagement will be, and when real feelings emerge, will they think about a possible future together?
I love the characters in this story! While Dante is a smart and efficient businessman, he has a generous heart and when he hears about Orla's plight, he has no hesitation in helping her financially. What he doesn't want is any emotional entanglements. He's a strained relationship with his mother who left him with his father when they divorced, and finding out his father lied to him all these years makes him even more leery of family relationships. He has no interest at first in meeting his sister or his nephew, though he's happy to provide for her in Ireland from his home in Sicily. The trouble comes when the sexual attraction he feels to Aislin melds into more serious feelings.
Aislin is a delightful, vivacious woman who has known hardship but never let it defeat her. After the death of her mother, when Orla was in a serious car accident while pregnant, Aislin spent day and night with her at the hospital, and caring for her premature baby. Her determination to get Orla some of what she's owed by Dante is one of the things Dante admires about her, as well as her compassion and her bright outlook on life. She's very different from the other women Dante has dated, a fact that Aislin feels keenly but doesn't deter her from playing the part of his fiancee. It's a convincing act to everyone, including themselves. The love scenes are sexy and fun, and Aislin is willing to stand up for herself and make Dante see that his life will never be the same if he lets her go after their arrangement is finished. It's a lovely romance, and I'm looking forward to reading Orla's story next!
Book Info:

Publication: Jan 15, 2019 | Harlequin Presents | Conveniently Wed
Bought for his convenience… But their chemistry is impossible to resist!
Posing as commanding billionaire Dante Moncada's fiancee at a glamorous society wedding is a far cry from Aislin O'Reilly's modest life, but she'll do anything to secure money for her sick nephew. Her deal with Dante is strictly business – the gorgeous Sicilian playboy is danger personified. Yet soon their explosive mutual passion rips through the terms of their arrangement, leaving them both hungry for more…