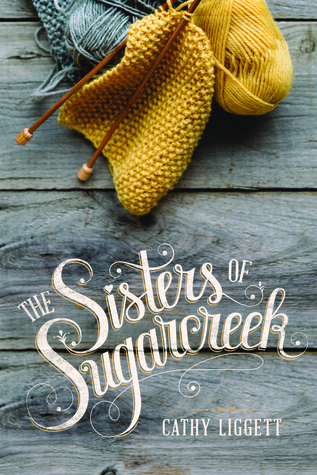 The Sisters of Sugarcreek by Cathy Liggett: What a book with which to begin the new year! This is one i was so sad to see come to an end because I enjoyed The Sisters of Sugarcreek so very much! The Sisters of Sugarcreek follows the stories of three women who are trying to make a new life for themselves after loss. Lydia, a young Amish widow, is trying to learn how to support herself while grieving a husband she really never knew because he kept his real self deeply hidden, for reasons we find out much later.
Liz, also a widow, is a real estate agent struggling to support herself who also loses a dear friend, Rose, in the same fire that killed Lydia's husband. Jessica, a single mother, lost her Aunt, Rose, who raised her, in the fire. Jessica is trying to keep her aunt's cottage knitting shop open while raising her young son. When Lydia enters the shop one day, Jessica desperately begs for her help. A gradual and eventually close friendship grows between Lydia and Jessica. For Lydia, it is one of her first friendships ever, along with her new friendship with Rebecca in the bakery. Liz knows Jessica through Rose, and also because Liz's daughter went to school with Jessica. Liz and Jessica decide to keep up a secret society that delivers gifts and food to those in need in the dark of night. Lydia is drawn in to this secret society. While the three ladies grow ever more entwined in each others' lives, Liz is also becoming friendly with Lydia's neighbor's uncle, who is repairing her home, and a special friendship starts to grow.
Lydia starts to interact more with the members of her church, from whom her late husband kept her separate. Lydia also blossoms under the kind attention of her neighbor Jonas. Meanwhile Jessica and her son Cole are thrilled that Jessica's long time best friend Derek returns to town to make his life in Sugarcreek. Jessica has long held feelings even deeper than friendship for him. Throughout all of these situations, Jessica, Liz and Lydia nurture and guide each other, becoming what the author calls "sisters of the heart". Having a few "sisters of the heart" myself, I can appreciate the special closeness these friends share. I highly recommend The Sisters of Sugarcreek. Readers of the Amish genre, as well as women's fiction in general, will not be able to put this down. A beautiful story in so many ways!
Book Info:

 February 7, 2017 | Tyndale House Publishers |
Many lives were changed the day a fire burned down Faith Community Church, devastating the small town of Sugarcreek, Ohio.Now a young Amish widow, Lydia Gruber faces an uncertain future. Her husband, a craftsman and volunteer firefighter, always took care of everything, keeping her isolated from others in their community. Without anyone or any skills, how will she survive?With the death of her beloved aunt Rose in the fire, single mom Jessica Holtz inherits Rose's Knit One Quilt Too cottage. Though determined to keep the shop open in her aunt's memory, she doesn't know the first thing about knitting and quilting and begins to see her aunt's dream slip through her fingers.When Liz Cannon lost her dear friend Rose, she also lost her partner in the Secret Stitches Society–the name they gave themselves while delivering gifts of hope to troubled folks in the dark of night. Liz convinces Jessica to keep the anonymous society going, despite the younger women's inadequacy with knitting and sewing needles. But soon Liz has problems of her own as the life she has rebuilt for herself begins to crumble again.When Liz and Jessica choose Lydia for their first mission, the three women cross paths and form an unlikely friendship in the aftermath of tragedy. As they walk together through triumph and heartbreak–through grief and new chances at love–they begin to discover that with friends by your side, a stitch of hope can be found anywhere.