The Spaniard's Untouched Bride by Maisey Yates is a sexy romance about a woman who loses everything,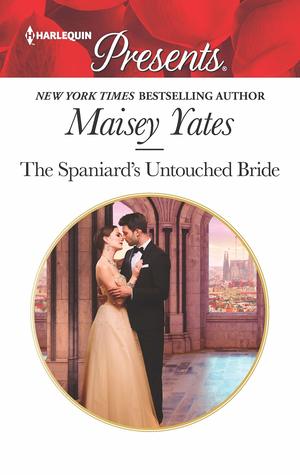 then gains it all back and finds love in the bargain. It's the first story in the Brides of Innocence series.
When Camilla Alvarez loses her father, she also loses her home and the horses that have been her life. Desperate, she disguises herself as a teenaged boy (accomplished easily with some snips of hair and her tomboyish figure) and gets hired by the tycoon Matias Navarro who now controls her estate. Everything is going fine and she's able to help with the horses' training until an accident occurs and her ruse is discovered.
Matias can't believe he was ever deceived by Camilla once he realizes she's really a young woman. And he's got his own problems. His grandfather has made clear his own fortune will go to Matias or his brother Diego, whomever is married in the next few weeks. Matias's original bride choice ends up kidnapped by Diego (sure to be told in another story in this series!) and he's left with few alternatives. He makes a pact with Camilla – marry him, and in return, she can have her rancho and precious horses back when they divorce. It's a bargain Camilla can't refuse. But when she finds herself falling for Matias, will gaining her home be worth losing her new love?
This is a wonderful start to the author's new series! I loved the Spanish setting and the plot details, with plenty of action in the horse training ring. It has the feel of an old style marriage of convenience historical romance but with some modern details. Camilla is twenty two, determined , smart and very skilled when it comes to training and calming horses. It's those talents that get her the position with Matias's foreman, and since she's already lost everything, she's willing to speak up when her favorite horse balks at everyone else's hands but her own.That's what draws her to Matias's attention.
Matias is thirty three, and not looking for love but Camilla is an original and he's drawn to her for her strength and beauty. Once she's exposed as being a woman, he can't keep his eyes off her. Camilla is a virgin, and makes it clear that she wants to give her virginity to him, a gift that Matias can't refuse. Their love scenes are hot! But when Camilla tells Matias that she is falling for him, he withdraws as real emotions aren't supposed to be part of their arrangement. Things get rocky until he comes to his senses and realizes what he will lose if he doesn't go after his wife. They get their happy ending and a super sweet epilogue. It's definitely going on my keeper shelf!
Book Info:

Publication: Dec 18, 2018 | Harlequin Presents| Brides of Innocence #1
To save her inheritance…
His price is marriage!
Camilla Alvarez refuses to abandon her beloved horses when formidable tycoon Matias Navarro acquires her family's renowned rancho. Instead, she disguises herself as his stable boy! Yet when Camilla's charade is discovered, Matias offers her an even more shocking role—as his wife! Innocent Camilla is transformed into a bride deserving of his diamonds, but their convenient marriage is transformed by the scalding heat of their wedding night…