The Magnolia Inn by Carolyn Brown is a feel good story about friendship, fighting your demons, and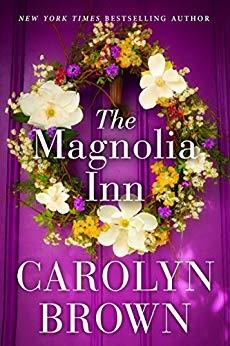 finding love, and maybe, just a little bit of magic.
This is the amazing story of an old family inn and how the magic in its walls, along with the help of some meddling, well intention, nosy friends help bring Jolene and Tucker together.
Jolene Broussard has always loved the Magnolia Inn. It was the only place that she felt loved and wanted. Spending time with her aunt and uncle, she felt that the place held magic in its walls. When her aunt and uncle decided to buy an RV to see the country they leave half the Inn to Jolene and half the Inn to her rotten, good for nothing cousin. Before she has a chance to buy him out, he sells his half to a hot and sexy carpenter and the sparks start to fly.
Tucker Malone lost his wife in a car accident. He does not want to move on, he does not care about the future, he only wants to make enough money to keep him in booze and to keep the memory of his wife with him. But when he has a chance to buy into the Magnolia Inn, he hears his wifes voice telling him to jump in. It was a place she loved and talked about during their marriage. But he did not anticipate the feelings that Jolene would stir up in his heart.
Jolene is leery of Tucker because she has been burned before by a mother and ex boyfriend who were both heavy into drugs and alcohol, She is not willing to get burned again. But as Jolene and Tucker spend all of their time fixing up the Inn, they both realized that the magic that is held within the walls of the inn is enough to fight off the demons of the past and allow love and light to shine on a bright and beautiful future.
What I loved about Tucker and Jolene is that neither of them took crap for the other. They both had demons that haunted them, but they both fought hard to overcome them and come out on the other side. With the funny and helpful advice of Jolene's aunt and her 3 best friends, Jolene and Tucker are pushed together at every turn, only strengthening the bonds that they are building, until the foundation of their love is so strong that nothing can tear it apart.
An amazing feel good story with a wonderful happily ever after that will leave you cheering.
Book Info:

Publication: January 15th 2019 | Montlake Romance |
Inheriting the Magnolia Inn, a Victorian home nestled in the East Texas pines, is a fantasy come true for Jolene Broussard. After living with the guilt of failing to rescue her self-destructive mother, Jolene knows her aunt and uncle's B&B is the perfect jump start for a new life and a comforting place to call home. There's just one hitch: stubborn and moody carpenter Tucker Malone. He's got a half interest in the Magnolia Inn, and he's planting his dusty cowboy boots squarely in the middle of her dream.
Ever since his wife's death, Tucker's own guilt and demons have left him as guarded as Jolene. The last thing he expects is for his new partner to stir something inside him he thought was gone forever. And as wary as Jolene is, she may have found a kindred spirit—someone she can help, and someone she can hold on to.
Restoring the Magnolia Inn is the first step toward restoring their hearts. Will they be able to let go of the past and trust each other to do it together?