In The Spring Bride (Chance Sisters #3) by Anne Gracie, After a tragic childhood, Jane Chance has reinvented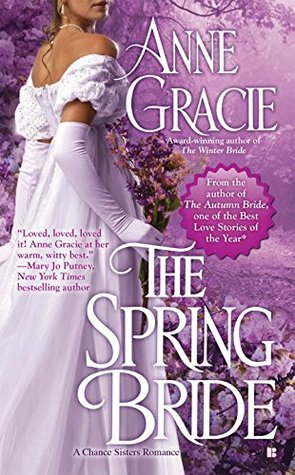 herself and hopes to make a match this Season based on mutual goals, not love. Practicality will serve her better than infatuation. All is progressing well until she meets a tall, intriguing gypsy who helps her save a dog from being tortured by ruffians. Jane knows Zachary isn't suitable by any means and tries to forget him, but he seems to be there at every turn. Can she truly overlook what her heart is telling her?
"A dog? You risked your life for a dog?" He sounded incredulous.
"They were torturing it." Jane searched through the rubbish in the alley, trying not to notice the dirt and the smells.
"And that justifies risking your life, does it?"
Zachary Black left England over a decade ago after a tumultuous childhood. Working as a spy the last eight years, he has finally come back to London only to find he will inherit the family estate. Well, after he is cleared of a bogus murder charge. During this chaos is when he meets the lovely Miss Jane Chance. Suddenly Zach, the man who despises society and who has been wandering abroad, longs for the opportunity to settle down with Jane. If she doesn't run when she finds out the truth about him, that is.
'He was not leaving England again; murder charge or not, he'd stay and fight for his future — his future at Wainfleet, and his future with Miss Jane Chance.'
The Spring Bride was an entertaining historical romance where neither of our main characters were who they seemed to be at first glance, which only added to the fun — and mayhem.
First of all, look at that beautiful cover! It screams Springtime to me, so I thought it fit the book's title very well. Secondly, I really enjoyed the witty bantering between our protagonists. Anne Gracie had a way of switching from dialogue that was full of teasing and lightheartedness, to wonderfully descriptive explanations of the character's feelings and innermost thoughts, which were oftentimes quite serious. That balanced out the story, keeping it from getting too overwhelming during the darker sections.
It was surprisingly fun with Jane and Zach both hiding their backgrounds. I'm not always a fan of stories where the protagonists build their relationship around lies. With Zach, he was a spy, so he had to keep certain things hidden out of necessity. I really liked his mischievous side and how persistent he was with Jane. Zach proved to be a caring gentleman and all-around great guy.
Jane was also a very caring person, which showed right away with her saving the dog in the alley. Her background was not an easy one. (Actually, neither was Zach's.) And even though I didn't agree with her stance on love at first, that it was something you could resist and it wasn't needed to form a successful marriage, I understood where Jane was coming from. With the help of her sisters and her Aunt Beatrice (loved her!) Jane and Zach had a lovely, memorable HEA that I think readers will thoroughly enjoy.
Feel free to read this either as a standalone title or as part of the series. Either way, I think historical romance fans will get swept away, just like Zach and Jane did in this heartfelt novel.
Book Info:

Publication: June 2nd 2015 by Berkley | Chance Sisters #3
A dog in need of rescue brings together a young debutante and a mysterious stranger in this regency charmer from the beloved Anne Gracie. For fans of Mary Balogh and Madeline Hunter.
On the eve of the London Season, Jane Chance is about to make her entrance into high society. And after a childhood riddled with poverty and hardship, Jane intends to make a good, safe, sensible marriage. All goes according to plan until a dark, dangerous vagabond helps her rescue a dog.
Zachary Black is all kinds of unsuitable—a former spy, now in disguise, he's wanted for murder. His instructions: to lie low until his name is cleared. But Zach has never followed the rules, and he wants Jane Chance for his own.
If that means blazing his way into London society, in whatever guise suits him, that's what he'll do. Jane knows she shouldn't fall in love with this unreliable, if devastatingly attractive, rogue. But Zach is determined—and he's a man accustomed to getting what he wants.