The Ten-Day Baby Takeover by Karen Booth is a lovely romance featuring a man who discovers he's a father and gains a son and a new love in one fell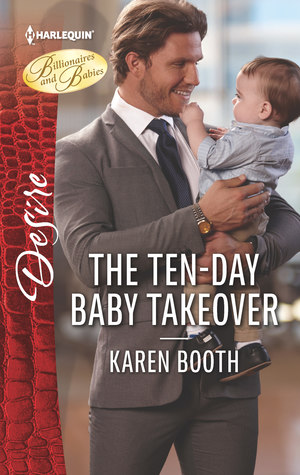 swoop. Sarah Daltrey's best friend recently died of cancer, leaving her son Oliver under Sarah's guardianship until she's able to connect him with his father. When Sarah shows up at Aiden Langford's office with sweet baby Oliver in tow, one look at his bright blue eyes and the unmistakable birthmark on his thigh is enough to convince Aiden that Oliver is his son.
Aiden's never cared for a baby before, and in desperation he convinces Sarah to stay on as Oliver's nanny for the next ten days while he reorganizes his life and finds a new nanny. Sarah agrees reluctantly, already knowing she'll have a hard time saying goodbye to the sweet boy. Her easy attachment to children in her charge has caused her heartache in the past and she's determined to leave the nanny business behind and focus on her lingerie and sleepwear design business. In return for helping Aiden, she wants him to aid her in finding investors to help with her fledgling company. He agrees, and they strike a deal. But neither counted on the sparks of attraction between them, or that spending time together would lead to a heated affair. Time is ticking and Sarah knows she'll have to say goodbye to Oliver and Aiden soon. Will Aiden realize that Sarah belongs with him and Oliver permanently before it's too late?
I really enjoyed watching Aiden open his heart to Oliver and Sarah. He's a bit of a lone wolf, keeping himself emotionally unattached and having a baby around gives him a chance to experience unconditional love. Aiden has a close relationship with his sister Anna who is pregnant (and delighted at the prospect of a nephew who will be close in age to the baby she is carrying). But his relationship with his mother is fractured by family secrets that explain some of Aiden's reticence to get involved with a woman. There are some really sweet scenes as Aiden and Oliver bond and he learns all about what's involved in caring for a baby. Oliver is easy to love, his precocious and inquisitive nature capturing the reader's heart too.
Sarah is a delightful young woman with a big heart. Though she does her best to guard it from getting broken, it's hard to resist Aiden and his charms. They share some sexy scenes together, the knowledge that they have no future expectations of each other making it easy to connect physically. But it's difficult to remain emotionally uninvolved and neither Aiden nor Sarah opens up to each other about how they are really feeling until it's almost too late. Luckily they come to their senses and realize how much better off they'll be together, getting a happy ending and ready made family. I recommend this story for readers who enjoy sweet and sexy romances, and babies who capture your heart.

Book Info:

 Publication: April 4, 2017 | Harlequin Desire | Billionaires and Babies #80
A billionaire's baby deal!
One look into his infant son's trusting blue gaze and Aiden Langford knows his wild, carefree days are over. If only he can get Sarah Daltrey, his son's temporary guardian, to give him daddy lessons Certainly the soft-hearted entrepreneur will agree to his ten-day proposal to stay as the nanny. Aiden just needs to keep his mind on parenting and off Sarah's seductive curves
Being in the handsome tycoon's arms puts up Sarah's emotional defenses even as her body begs her to let go. But being a babysitter with benefits isn't on her agenda especially for a father and son who might steal her heart.