In A Limited Engagement (Limitless Love #1)by Bethany Michaels, love isn't in the cards for Derek Sawyer, or so he thinks. Still he needs someone to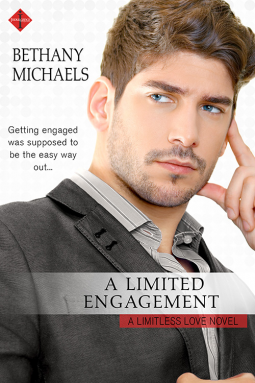 be his fake fiancé, if he's to achieve his latest dream, and his sister's best friend is the perfect woman for the job. Except the more time he spends with Lily Harmon, the more he finds himself succumbing to the one thing he never thought possible – love.
="I want an obscenely large diamond and a promise that no one back home will ever know about this. And I'm keeping my own name, if anyone asks."
"We'll stop by Tiffany's on the way to the airport and pick something out." He moved back into his own space, but didn't let go of her hand right away. "And there's no way my wife is going to have a different name to me. Think of the children."
"Caveman."
"Absolutely. Seriously, though – thanks, Lil. I owe you one. A big one."
She smiled big at him sweetly. "Just remember that when you're negotiating my new salary."
Ms. Michaels is a new-to-me author, but after reading this first book of her Limitless Love series, I can tell you that I'll be reading more of her work in the future, especially books to come for this series. The way this story started had me hooked immediately to this story's plot, as Derek has always been Lily's kryptonite. The one man she's always wanted that treated her like nothing more than his sister's friend. However, now all that's changed and he needs her help. But being his fake fiancée comes with its up and downs. Can she handle the pressure she faces by being in the public eye because of who Derek is? What will happen when people learn the truth that their engagement is a fake, especially when everyone is so happy for them?
The dialogue was well-written, and I loved the growing relationship between Derek and Lily. He doesn't do relationships, because of the way his parents marriage turned out with his dad being too much of a workaholic and not having time for family. No way is he going to let that happen, and his career means too much to him to compromise. While Lily, everything in her life has gone completely opposite to the five-year plan she had for her life. She needs something to take her mind off the fact that she doesn't have a job or the man she thought she'd spend the rest of her life with. Helping Derek and getting in deep was never part of the plan, and she fights so hard to keep from feeling more for the hero than the crush she's always had, knowing that everyone they love is going to get hurt by their fake engagement, but it's impossible. Indeed, I really felt sorry for her when things fell apart with the hero. Then again, I felt sorry for him too, because of what happens with his parents. Yet, in saying that, I liked that he accepted advice from those that he wouldn't normally accept advice from.
 "That look is so not going to work on me."
"What look?"
"You know the look. All sexy and sweet and with that grin that brings out your dimples. I'm your fake fiancée, not the real thing. I'm immune."
He dropped the grin. "Look I think we should keep up this things for a while longer."
"You're unbelievable. Doesn't it bother you to lie to your parents? All of our friends? You're willing to keep lying just so you can buy a couple of race car tires?"
Lily is strong and brave and I liked how determined she was to pick up the pieces of her life, especially with what her ex is threatening when it comes to her career. I also liked how kind and caring she is and how she doesn't want to disappoint anyone when it comes to their fake engagement, because it's helping those they love in many ways. Derek's mom is ecstatic and the heroine's dad's business is thriving. How can they possibly disappoint the people they love when so much is going right? While Derek, he's driven and has worked hard to get to where he is in his career. He's not about to let anything get in the way of achieving what he wants, instead of allowing certain people to continue to dictate his career. Moreover, I did get a laugh out of him at the moments where he's trying to ward off the woman that wants him. Does she not know how to take no for an answer?
Overall, Ms. Bethany has penned a fantastic novel in this one where the romance heats up the pages and illustrates how much Lily and Derek are meant to be, no matter how much he denies his feelings. The way this story ended was perfect, as Derek had a lot to make up for with Lily and he definitely went big to get her back. What a declaration both to the public and personally to Lily. However, it was the epilogue that wrapped this story up wonderfully. I would recommend A Limited Engagement by Bethany Michaels, if you enjoy the friends to lovers trope or the sister's best friend trope.
Book Info:

Publication: March 13th, 2017 | Entangled Indulgence | Limitless Love #1
Derek Sawyer, sexiest bad boy on the racing circuit, is about to land a huge sponsor. The only problem is the oil baron's daughter wants to make Derek part of the deal. Worried he'll offend the old billionaire if he rejects his daughter, Derek comes up with the perfect plan—pretend he's already engaged to his friend Lilly.
Lilly Harmon used to daydream about her childhood crush Derek proposing to her…but not like this. Of course, she just lost her boyfriend and her job, so her five-year plan is already smashed to hell. Pretending to be with Derek might help her get her PR career back on track.
But the oil baron's daughter won't give up that easily, and Derek's parents believe the engagement proves he's become the son they always wanted.
Money. Family. Love. The truth could destroy everything. And to think this engagement was supposed to be the easy way out.