In The Texas Lawman's Woman by Cathy Gillen Thacker, Shelley Meyerson has never forgiven Colt McCabe for standing her up at the prom, no matter that he explained why he didn't make it. They had planned for something special for their first time with the help of their friends. But not only did he stand her up, he arrived late, unkempt and didn't bother to call her before standing her up. So after graduation she went and married another man and went on a life adventure. After she wound up pregnant she realized that living an adventure in debt was not something she could do with a baby and that she needed to grow up and be more responsible, so she returned to her hometown in Laramie Texas to give her child a good childhood.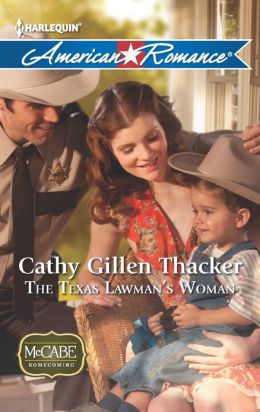 Colt McCabe is now a deputy sheriff, he is nice man, but maybe a little too nice. He doesn't like to give tickets or warnings to people. He wants to help them and give them second chances, but maybe he can be a little too lenient in the eyes of others. Now as he meets up with Shelley again he wants to help her with anything he can and be her white knight, but her independence will not allow them to get too close that easily.
The fact that they are best man and maid of honor in their best friends wedding will not help Shelley keep her distance from him. And since their friends are stuck away from Laramie it's up to Shelley and Colt to work together in putting the wedding together and making sure that everything will go without a hitch. But when Shelley gets evicted from her home thanks to her ex-husband, things will get even more complicated for them both.
Colt and Shelley have a lot of growing up to do, and they have to learn from the past instead of being stuck in it and making their decisions based on that.
Shelley is nice character with lots of growing up to do. She may be a mother, and tried to grow up for her baby, but she still lived in a dream world. She hoped that everything would always workout her way without her having to take responsibility for her own actions. She never grew up past their high school prom and judged and acted as if she was still in high school.
Colt is a sweet and nice character, but maybe a little too nice. He would make judgment calls when he needed to instead give tickets or warnings something that will get him in trouble in his job. An error that others instead of taking as kindness from him and a second chance, started taking as if he was not there as an officer of the law but someone that would cover their misdemeanors.
The Texas Lawman's Woman by Cathy Gillen Thacker is a nice and sweet read with two characters that need to grow up for their love to develop into something more and better and a child that will charm you with every word.
Book Info
Publication Date: May 7, 2013 | Series: Harlequin American Romance (Book 1449)
The Best Man In Laramie
She's no damsel in distress, but Shelley Meyerson may just need a white knight like deputy sheriff Colt McCabe. Thanks to her scheming ex-husband, Shelley's about to lose her home. The last person she wants to turn to for help is Colt, the guy who broke her heart the night of the high school prom. But now that she's back in Laramie, there's no avoiding him—especially when they're both serving in the same wedding party.
True, the handsome, gallant lawman is a valuable ally. And he seems genuinely interested in Shelley and her little boy. She could definitely use a friend…and maybe something more. Rekindling their romance is easy—but learning to trust again is hard. Especially when Shelley learns that Colt's been keeping a secret that could cost him his badge….