In The Trouble With Lucy by Carol Marinelli, Carol Marinelli takes us on a journey of personal growth after tragedy, hurt and betrayal.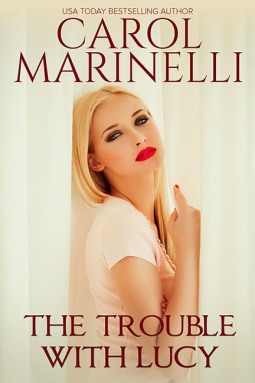 Gloria is the wife and mother whose husband left her for his much younger, pregnant girlfriend 12 years ago. Gloria spent a lot of time angry and hurt, but has pulled herself up out of misery and is living again.
Lucy is the woman he left Gloria for, the woman who is now falling apart after her husband's death. She is struggling to cope even for her daughter. Fluctuating between anger over her husband's actions and grief for him and what was, the last person Lucy expects sympathy or help from is Gloria. She certainly doesn't deserve it, does she?
Reluctantly Gloria is drawn into Lucy's life. As Gloria struggle to keep moving on with her life and finally let go of the past, it means trying to find forgiveness in her heart. As Lucy forges ahead as best as she can, also finding forgiveness, she might find a lot more.
Carol has written about a sensitive subject in a matter of fact way that will pull you into The Trouble With Lucy. I like how she doesn't try to force the reader to like the characters, or convince us of anything. She writes it like it is, leaving it all up to the reader. I really found it interesting how Carol writes The Trouble With Lucy from dual POV's, both in the first person. She does this smoothly, transitioning from each character and their life easily. I felt like this really made both of their stories more real, and it was easy to fall into their lives.
I could not really like much about Lucy to be honest. Even before her husband's death I found her to be very self centered and materialistic. I did see a lot of growth in her character through The Trouble With Lucy, and even though I didn't really like her, Carol kept me interested enough in her to want to know more about her. Gloria was easier to relate to. I think her maturity and life experience really went a long way to giving her character such strength. I really saw a lot of growth in Gloria too, as she struggled with emotions she thought she was over a long time ago, and struggled with the present day situation with Lucy.
The Trouble With Lucy has a lot of family dynamics in it, and I liked how Carol made the characters work as they struggled not only with death, but with life circumstances that were realistic.
I would recommend The Trouble With Lucy to women's fiction readers who want to jump into a realistic world as Gloria and Lucy both try to move forward in their own ways. It's not a rosy world, but one that evoke strong emotions and hope in a believable situation.
Book Info:

Published August 6th 2014 by Tule Publishing Group
The Ex-wife and the Widow…
Twelve years ago Lucy stole Gloria's husband.
When he dies, in the most embarrassing of circumstances, the ex-wife and the widow are forced to face not just the other but also their demons. His death somehow frees Gloria and her life finally starts to come together, just as Lucy's falls apart.
As Lucy's life spectacularly unravels it is in full view of her nemesis. Gloria is the only one who could possibly understand what Lucy is going through—she was married to the cheating, sex-addicted bastard after all. What goes around comes around and surely Lucy deserves every moment of her come-uppance? She feels no sympathy or pity for Lucy.
At first…