In Marrying the Wrong Man by Elley Arden, Morgan Parrish was embroiled in a scandal three years ago. She was about to marry a man her father put on the path to presidency by helping him with his place in politics as a congressman, only when she was about to marry him, his now wife, interrupted the wedding by telling everyone in the church that Morgan had had an affair with her brother Charlie. When all their plans came tumbling down, Morgan fled town and the consequences of her actions. What few knew was that she was pregnant, and those who knew thought she gave the baby up for adoption.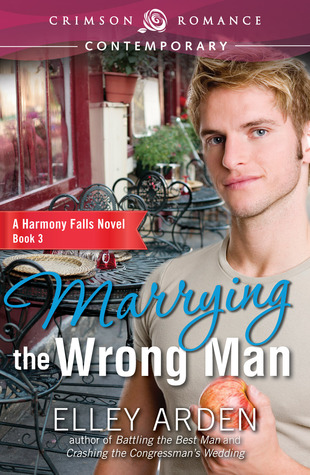 Charlie Cramer has not had an easy life, being the children of the "town's drunk", both him and his sister have had a tough road to make something of themselves. After loosing Morgan and his sister's marriage to the congressman, Charlie decided to become sober and make his dreams of his own restaurant become real. The good thing is that his brother-in-law and his family are backing him up so he can open the restaurant; the bad thing is that they own part of it and he has to keep proving himself to them. And with him being a control-freak over his restaurant, he is having a tough time keeping any employees.
Now Morgan is returning home to Harmony Falls in order to withdraw the funds from her childhood bank account. What she doesn't expect is that the account is empty, that her mother took all her money when she fled the town and that now she will be stuck there with her child until she can get a job and save enough money to move somewhere else. Only getting a job after what her father did will not be easy, for everyone will also blame her for his wrongdoings. But the worst part is that nobody knows that she kept her baby, especially Charlie.
Charlie is surprised to see Morgan back in town, but when he tries to talk to her she tries to avoid him. The only way to live in a small town together is to clear the air, so he decides to go see her at her aunts place and do just that, what he doesn't expect is to learn that his baby is also there. After his father's example, Charlie is not sure if he can be a good father, but he wants to get close to his child.
Then having the Mitchell family hire her to be the hostess, at his restaurant only complicates matters. He will keep her if only because that is the only way that she will be able to save her money and move away, and because until she quits he cannot go against the Mitchell's orders. But one thing neither of them expected was the chemistry and desire that still burns between them. Each ahs plans that don't include the other, but can they find the common ground and finally allow the love that exist between them to grow? You will have to read it to find out. 😉
If you want a fun, deeply emotional and entertaining read, don't miss Marrying the Wrong Man by Elley Arden.
Book Info:

May 12th 2014 by Crimson Romance
Three years ago, Morgan Parrish was embroiled in her father's plan to marry a man who was destined for the presidency. There was just one problem: Morgan was in love with and pregnant by another man. When the house of cards her father had built came tumbling down, Morgan fled town and the backlash. Now, she's stuck in Harmony Falls after a childhood bank account turns out to be empty. Even more shocking, the child she intended to place for adoption rather than cause more scandal is at her side.
As the son of the town drunk, life hasn't always been easy for Charlie Cramer. Maybe that's why he's holding on to his own sobriety and his brand-new restaurant so tightly—too tightly if his grouchiness and control-freak tendencies in the kitchen are any indication. To make matters worse, Morgan Parrish is back in town … and she has a surprise for him. He's a daddy! Can he face the truth and not lose the stability he's worked so hard to achieve these last three years?
When a staff shortage ends up with Morgan waitressing at the bistro five nights a week, old feelings come to a boil. But there's even more to consider, now. If they give in to the attraction and screw things up again, a precious little girl will have to deal with the fallout. On the other hand, if they can make this work, they'll be a family. It's the biggest risk either one of them will ever take.