In The Trouble With Vampires (Argeneau #29) by Lynsay Sands, Immortal Santo Notte should have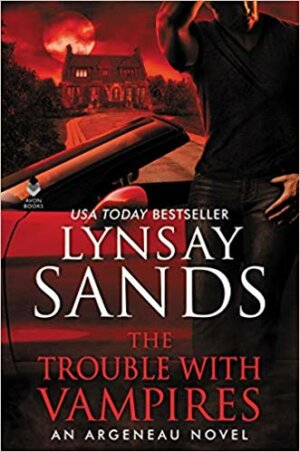 known that he would finally find his life mate when he was least expecting it. And while on a stakeout in upstate New York, history professor Petronella Stone captures his attention and his heart from the moment he sets eyes on her. But with his life mate and her precocious eight-year-old nephew Parker in more trouble than they realize, Santo and his fellow immortals have their work cut out for them. Because Pet and her family are targeted for some unknown reason by an apparent rogue immortal. And when their lives are put into direct danger, Santo must make decisions they'll all be able to live with.
'The woman had a hell of a lot of passion in that petite little body of hers, and his body was roaring to explore it.'
Babysitting her wickedly smart and unfailingly charming nephew Parker is definitely not a hardship for Pet. She adores spending time with him. But weird things have been happening around his house while she spends the week with him. It's not just the handsome vacationer and his nosy but well-meaning family staying across the street. Something is happening next door to her sister's house. Pet knows she and Parker are in trouble when there's an attempted break in–and things get more complicated when they stay with Santo, Marguerite, Julius and their family for a short while, thanks to her off-the-charts chemistry with Santo. She's tempted to see where their relationship could go, if it wasn't for the fact that he's an immortal. And that danger seems to be constantly surrounding them.
'This was exactly what Pet had wanted to avoid, and she didn't know how it had happened, but she was falling for the overgrown immortal.'
The Trouble With Vampires, Lynsay Sands' twenty-ninth installment in her popular Argeneau series, brought with it some interesting twists, a smattering of suspense, and an adorably clueless couple swept away by their passion. Sounds fun, right?
"Are you ready to stop being an idiot?" she asked solemnly.
Santo smiled faintly. "I have been an idiot, haven't I?"
"Yes. But you're my idiot," she said, her voice husky. "I love you, Santo."
"I love you too, tesoro," he breathed…"I'll try not to be an idiot in the future."
I still can't believe that we're twenty-nine books into the Argeneau series and I'm just as captivated as ever by this story arc and the engaging characters we've met along the way. Sands is keeping things interesting not only with how each couple meets and what issues they face, but with the rogue vampires and an evil scientist that are still causing mayhem for the Argeneaus and their friends. And The Trouble With Vampires carried that part of the storyline just a tad further, stringing us along as the bad guys, er–bad immortals were actively being hunted down.
Santo and Petronella, our hero and heroine, were quite the adorkable pair. They were both extremely smart and obviously had some serious chemistry, being that they were life mates. There was a cool twist in regard to Pet and her background. I'm not gonna give it away here, although I can say that it made finding out about Santo and his friends and family a whole lot easier in some aspects for her than for other heroines we've seen in past books. But learning about the horrible atrocities in Pet's and Santo's backgrounds will be tough for some readers. They went through a lot in their lives. It made me admire their tenacity and I liked that it brought them closer together. Not through pity, but through an understanding of what each other had dealt with, knowing that Santo and Pet would be able to stand up against evil individually and as a team in the future.
The only real drawback was the serious, *very* serious, lack of communication between Pet and Santo. Particularly from our clueless hero. It can sometimes be funny when signals get crossed and the characters assume things, making for a zany time until things are cleared up. Not so much in this situation. It felt to me like Santo just wasn't taking the initiative to explain about life mates and all that being with an Immortal entailed to Pet, leaving her to be confused and completely left out of things. Given Santo's past and his reluctance to be sociable, I understand why he wouldn't be talkative. But some information sooner would have gone a long way to easing Pet's mind.
Exciting, comical, and sexy, The Trouble With Vampires was an enjoyable addition to the Argeneau series which left off in just the right spot to lead us into the next story. Will the rogue immortals be captured or an evil scientist on the run be made to pay for his sins? I can't wait to find out soon.
Book Info:

Publication: Published April 23rd 2019 | Avon | Argeneau #29
For close to three thousand years the imposing, impossibly handsome Santo Notte has fought in armies across the world and battled his own, more personal enemies. Of all the places he might expect to encounter his life mate, a quiet corner of upstate New York doesn't seem likely. But as soon as he makes contact with history professor Petronella Stone, while hunting down a suspected rogue immortal, he knows that she will be the greatest adventure of his eternal life.
He expects her to be surprised, confused, even overwhelmed. What he doesn't expect is that Pet has a secret history of her own. There's no mistaking the mind-blowing, mutual pleasure they share. But as Pet struggles to protect her nephew from a danger lurking too close to home, Santo realizes there's another threat to her safety—him. And claiming their passionate future will be impossible until he leaves his past behind, forever…