In The Truth About Him (Everything I Left Unsaid #2) by Molly O'Keefe, Annie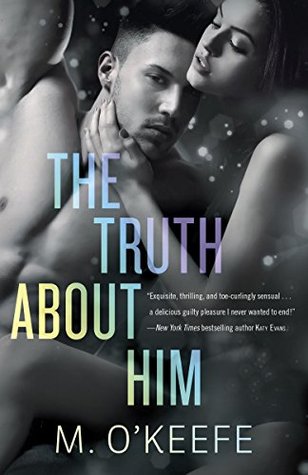 McKay knew she couldn't outrun her past forever. The time she's spent with Dylan Daniels in the interim, though, has thankfully begun to heal parts of her soul. Knowing he'll have her back makes Annie ready to face the music. But it's even more complicated than she first feared. She hopes that when everything settles and she's ready to start her new life, she and Dylan will be able to face it together, still standing strong.
'She looked at Dylan and realized how they knew each other in theory, behind the safety and subterfuge of lies and phone calls. The dizzying haze of sex and desire. But she did not know him in real life. In practical terms they were still strangers.'
Annie is a gift in Dylan's life that he never even dreamed he could wish for. But he's afraid that his dark past and his messed up family will tarnish the good in her. To say that he's probably all wrong for Annie is laughable. She should have the best of everything, not some scarred man who could end up getting killed–or worse, getting her killed–when the stuff going on with his brother Max comes to a head. But Dylan is thinking he's finally ready to open up and accept love for the first time in his life. And it's a pretty damn scary thing to do.
'I had no grace. And very little generosity. But what I had, I tried to give to her in that kiss. I was not the right man for her, but I wanted to be. And I was humbled by her choice.'
The drama was out of control, as was the heat between Annie and Dylan, in this explosive conclusion to their part of the Everything I Left Unsaid series.
After the mother of a cliffhanger ending book one had, I could not wait to read The Truth About Him and see how it all turned out. And I was not disappointed. To me, this installment was where everything got all too 'real' for Dylan and Annie. Not that things were not real between them in the first book. They were kind of lost in lust and good intentions at that point. But here they had to face the challenges of healing from their traumatic pasts and figure out if they could make something long term work together.
I felt like Annie finally and truly came into her own this time around. Her past caught up with her and she faced it head on. Sure, Dylan and Ben were there to offer some support, but Annie started making up her own mind. And that was a pretty cool thing to watch. Dylan on the other hand was still right in the middle of his family's issues, which was where a lot of the drama took place. He seemed like the one having problems adjusting, by letting go of his anger and distrust. But the end result was very fitting and gave closure to everyone involved.
Molly O'Keefe has yet again given us a dark-yet-hopeful romance that will keep you on the edge of your seat. And not only did this wrap up Annie and Dylan's story, it paved the way for at least two more couples: Joan & Max and Tiffany & Blake. Can't. Wait.
Book Info:
Publication:

November 24th 2015 | by Bantam | Everything I Left Unsaid #2
For fans of Christina Lauren and Jodi Ellen Malpas comes the next novel in M. O'Keefe's breathtakingly sexy series about a woman called into a journey of the heart, body, and soul.
We played our roles, told each other lies.
But now Dylan is no longer just a mysterious deep voice on the other end of the line. We're face-to-face and our relationship is very, very real.
We still have secrets—but so much is crystal clear:
The thrilling danger.
The raw, naked desire.
The need to keep feeling the way he makes me feel. Forever.
Dylan is putting up walls, trying to keep me safe, but he can't shut me out. He has seen my darkness and rescued me. Now it's my turn, if only he will let me.
Advance praise for M. O'Keefe's Everything I Left Unsaid
"Exquisite, thrilling, and toe-curlingly sensual . . . a delicious guilty pleasure I never wanted to end!"—New York Times bestselling author Katy Evans
"I am head over heels in love with Everything I Left Unsaid by M. O'Keefe. Everything about this book hits the mark—the exceptional prose, the brilliantly defined characters, the delicious plot, and all the wonderful, dangerous secrets. It's an absolute must-read keeper-shelf book!"—New York Times bestselling author J. Kenner
"I couldn't put this book down. Annie's story is heartbreaking, liberating, sweet, and sexy—I want more!"—New York Times bestselling author Monica Murphy
"Sweet, sizzling, sexy, and heart-wrenching, Everything I Left Unsaid broke my heart and left me yearning for more."—New York Times bestselling author Megan Hart