The Twin Birthright by Catherine Mann: Can you live with being a replacement? Can you let your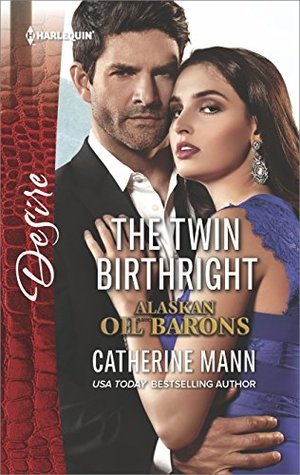 children?
When Naomi Steele was faced with those questions her answer was no. She couldn't, no matter what Royce said because of how they started that would be what she would think.So now she was alone and very pregnant but Royce was still there, still around and she couldn't get him out of her mind or her heart.
Royce Miller wasn't sure what else to do. He couldn't imagine his life without Naomi or her unborn twins. He used to love the isolation and the solitude and now while he still didn't like large crowds he missed her. So he decided he was going do one more trial run and stay until the company's gala and then he would say goodbye, forever.
When the twins come early and it's only Royce and Naomi things get twisted again and now with their lives so intertwined will either one be able to say goodbye to the past to live in the present?
Ms. Mann has brought her readers back to the Alaskan Oil Barons in this twisty novel. This is definitely part of a series and while it can be read as a stand alone my advice is not to. You will get so much more out of the story when you read it in order. She has taken her characters onto another playing field and finally gives them a happy ending that they deserve. This novel both gives the readers a great HEA, it also gives a new twist to the series that will have you begging for the next book..

Book Info:

Published May 8th 2018 | Harlequin Desire | Alaskan Oil Barons #4
They said goodbye months ago.
So why can't he walk away from her…or her twin babies?
Delivering his ex-fiancee's twins in a snowstorm is a brave new world for innovator Royce Miller. Despite the pain in their past, he's driven to protect Naomi Steele and her babies. That means facing the mistakes they both made–and resisting the heat they still can't deny. Will forgiveness lead to forever this time?
An Alaskan Oil Barons Novel