In Ocean Light (Psy-Changeling Trinity #2) by Nalini Singh, Bowen Knight's life–and his heart,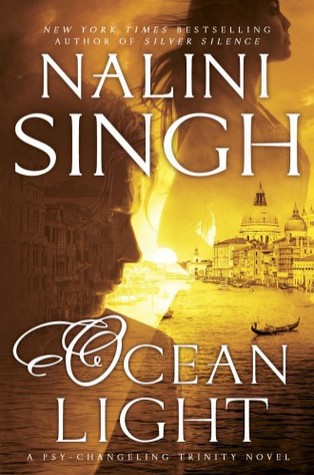 literally–was shattered when he took a bullet meant for his beloved younger sister. As the head security specialist for the Human Alliance, he's used to his life being on the line. But when he wakes from his coma it's to find out that, although he's still alive somehow, the chip in his brain that shields him from the Psy is on the verge of killing him. Bo is willing to try the experimental procedures being offered by BlackSea, considering they already have him in their station far below the ocean. Because even if he doesn't survive, at least they can use the information to hopefully save his family and fellow Alliance members. Although Bowen prays he'll pull through so he can get a chance to prove to Kaia Luna, a BlackSea changeling whom he can't seem to stay away from, that their bond is worth cultivating–and worth any sacrifice to hold onto what they have together.
'He knew it was selfish to keep moving forward with Kaia when his life hung so precariously in the balance, but he–a man renowned for his control–had none where she was concerned.'
BlackSea's talented chef Kaia was unbelievably angry when she learned Bowen would be staying onboard their station. As one of the head members of the Alliance, she doesn't trust him a bit, especially after the suspicious disappearance of some of her clan. Her compassionate nature may mean that she feels sad about his seemingly hopeless situation, but Kaia tries her hardest to stay away from Bo. Although doing so is much more difficult than she expected. Her connection with him is electric and something she never thought she'd find–or want in her life. And just when they begin to call a truce of sorts, finding that they fit on many levels, Kaia is forced to face her childhood fears head on in order to save a close friend. With secrets she just can't seem to tell Bowen about, she knows she's walking a fine line and may end up brokenhearted in the end if they can't save her friend and figure out a way to fix the chip threatening Bo's life.
'She still didn't have an answer to the question of whether Bowen Knight was the enemy, but what she did know was that there was more to him than the ruthless leader of the Alliance.'
Ocean Light was impressive, complicated and everything I hoped it would be. With an amazing plot and warm, tender romance tinged with a sense of urgency due to our hero's impending medical disaster, Nalini Singh continued this fantastic series with even more deceit and powerful connections than ever before.
'They might only have a fragment of an instant in time, but he'd make that fragment extraordinary.'
I swear I say this every time I review one of Nalini Singh's books, but I *adore* her writing style! It's so difficult to describe why it resonates with me so deeply but I think it basically boils down to two things with this story: character development and depth of emotion. There is something very intimate about the way Singh writes dialogue as well as the overall interactions of her characters. Whether it's between family members, friends, or lovers, emotions are the driving factor in everything they do. And Singh knows just how to position the conversations and those personal moments to bring out the most of each character's personality as well as each scene they are in.
With Bowen and Kaia, that couldn't have been more true. Their attraction was almost visceral and instantaneous, although there was also a world of anger on Kaia's end as she thought Bowen was partly to blame for some of her clan vanishing. As with all of Singh's books (and couples) our hero and heroine had quite the battle to get their HEA. I do love it when a happy ending is earned. It makes the reward seem so much more satisfying. And boy did Kaia and Bowen have to fight not only their own fears and personal issues, but they had to work together to figure out who was behind the disappearances. I really thought they made a terrific couple: they were both brave and rather selfless, loyal, and they loved fiercely. *sigh* It was rather heartbreaking to find out what was behind the issues BlackSea and the Alliance faced–as well as who was involved–but things ended on a more positive note than book one in the Trinity did.
I must mention that getting to know the members of the BlackSea clan was ridiculously fun. I love all things aquatic/maritime so figuring out what each changeling's animal or creature was had me laughing and feeling like a detective. Singh dropped some hints along the way about some of the clan members, and outright told us who others were, but we didn't find out for sure until the last third of the book what Kaia was. (I did guess right, but admittedly had a few ideas as the story progessed. lol) Seeing Bowen's fascination with BlackSea–and especially with Kaia–was really wonderful. For someone who was reserved and hid his emotions, I loved that he eventually felt like BlackSea was his family.
Nalini Singh packed a ton of goodness into Ocean Light. And the stakes couldn't have been higher for our couple, nor could the tension between them have been stronger. The powerful lessons they learned about love, friendship, family and trust, I think, will be something for readers to treasure and take forward into their own lives.
Book Info:

Publication: June 12th 2018 | Berkley | Psy-Changeling Trinity #2
New York Times bestselling author Nalini Singh dives beneath the surface of her Psy-Changeling world into a story of passionate devotion and selfless love…
Security specialist Bowen Knight has come back from the dead. But there's a ticking time bomb in his head: a chip implanted to block telepathic interference that could fail at any moment–taking his brain along with it. With no time to waste, he should be back on land helping the Human Alliance. Instead, he's at the bottom of the ocean, consumed with an enigmatic changeling…
Kaia Luna may have traded in science for being a chef, but she won't hide the facts of Bo's condition from him or herself. She's suffered too much loss in her life to fall prey to the dangerous charm of a human who is a dead man walking. And she carries a devastating secret Bo could never imagine…
But when Kaia is taken by those who mean her deadly harm, all bets are off. Bo will do anything to get her back–even if it means striking a devil's bargain and giving up his mind to the enemy…