The Unexpected Holiday Gift by Sophie Pembroke: The choices we make to protect ourselves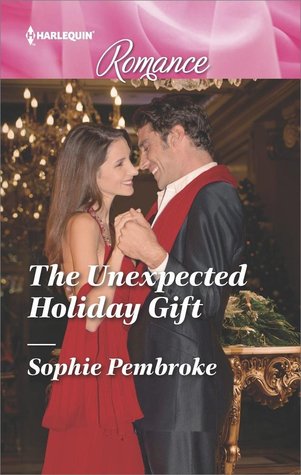 and others can be what end up hurting everyone more, especially when we have convinced ourselves it's the best for everyone.
Clara Foster was still in love with her husband and she knew it. She could never seem to cut the final ties and follow through with the divorce. She may not understand what he was doing or why he was doing it, but she knew she still loved him. She also knew she had a pretty big secret to protect from him as well and she would protect that secret from anyone she felt she needed to.
Jacob Foster knew he couldn't be trusted, not with anything. He just wasn't enough. So when his wife walked out he wasn't in complete shock, but he also knew he couldn't let her go. Even though he didn't want to love her that much he did and he just wasn't sure how to handle it.
Now, five years later, with some devastating news Jacob has come to Clara for help and for closure. Will the Christmas holidays provide them both with the answers they seek so desperately? Or will they just invoke anger and sadness?
This was an interesting read of two people who want so very much to be together but neither one seems to be able to talk. The dynamic that Ms. Pembroke sets up is both unique and realistic. It's not really about whether you agree with what the characters are doing but the fact that you can get so angry with them that you think that they are real that puts into perspective how well written the story is. This is a heartwarming holiday tale that will help you understand that the reasons we do things aren't always as clear as we think.
Book Info:

Publication: October 4th 2016 | Harlequin Romance |
Reunited for Christmas?
When Jacob Foster walks back into Clara's world, her heart races. She won't, can't, allow herself to hope it could lead to something more. But when her soon-to-be ex-husband hires her to create a perfect Christmas for his family, she simply can't afford to refuse.
Yet Clara has a secret…one she thought Jacob would never be ready to hear. Until she is snowbound with her husband, and their bond is rekindled… Dare she hope that Jacob could be there for her—and their daughter—not just for Christmas, but forever?