In The V-Spot by Wendy S. Marcus, Emma Masters is gearing up for her twenty-fifth birthday, of which her best friend Sadie is handling all the details. When Sadie talks her into going on a blind date that night, she begins to freak out. Being a bit overweight and having been ridiculed one too many times because of that fact has made Emma a little leery. Then she learns of the destination for her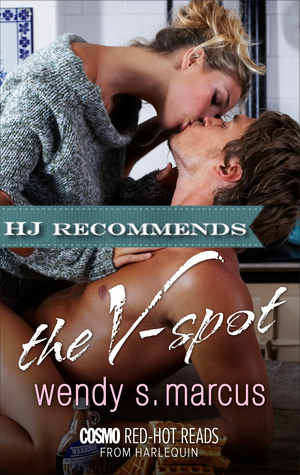 date: a voyeuristic hotel. Even though part of her is excited at the prospect, Emma's night goes from bad to worse when she finds out her date is none other than Brody "The Bull" Bullock, a famous wrestler who visits the sick children in her pediatric nursing ward. She's sure there must be a mistake or that Brody is playing a prank. How could someone who looks like a muscular god want her? But looks can be deceiving. And Brody makes it clear he is interested in Emma in every way imaginable…
'Rather than dwell on the differences between them, Emma decided to appreciate her good fortune in having him handy and put his beautiful body to good use for the rest of the night. Or until she passed out from exhaustion, whichever came first.'
Brody Bullock has had his eye on Emma for a little while. She may be a tyrant in the pediatric wing, but he can tell there's a caring, warm person behind the mask. And she's absolutely beautiful with curves in all the right places. Brody takes a chance on inciting her wrath when he shows up, late, to their blind date at the V-Spot, but is knocked out simply being near Emma. He will do anything to prove to her just how sexy she is in his eyes, including enticing her with not only the voyeuristic views, but playing out any fantasy she can think of. Even if he has to fight dirty with the help of some champagne, chocolate, and handcuffs.
"You came here tonight expecting to…" She swallowed. "…with me?" She hesitated before narrowing her eyes and adding, "The pit bull of the pediatric ward?"
Well, he shouldn't be surprised she knew about that. Not much got past Emma. "Not expecting, exactly. But ready, very willing and able."
"With me," she clarified, as if she couldn't possibly believe it.
The V-Spot is an oh-so sexy contemporary novella that had me laughing and sighing happily. It is, to me, the quintessential Cosmo Red Hot Read: Fun, flirty, and full of naughtiness! Oh, and chocolate. Lots of chocolate…
You know, I really wasn't sure what to expect from this story aside from knowing it would obviously be hot. As I began reading, I very quickly was drawn into the plot. There was something about Emma that struck a chord with me. She was terrific at her job as a nurse, full of confidence in her abilities. But when it came to the opposite sex…she had been put down and treated badly too many times to have a high level of confidence socially. As a woman, I can totally understand that. Add to the fact that she was also overweight, and very much aware of the fact, and it made it more difficult to loosen up and have fun.
I found myself really falling for Brody as we learned who he truly was. He was such a normal, thoughtful guy beneath the rowdy wrestling persona. And he truly did want to date Emma, knowing she was a genuine, beautiful woman. Brody wanted Emma to be comfortable with herself and to see her as the lovely woman he saw. I loved the comical, fiery bantering between them while they were trying to figure out how to handle their time at the voyeuristic motel. That in itself added another layer of heat to the story, with Emma and Brody wandering around the grounds surrounded by different displays of passion. Super sexy.
I highly recommend The V-Spot if you're looking for a racy but emotionally satisfying short story. I had so much fun reading this one and hope you do as well.
Book Info:

Publication: October 8th 2014 by Harlequin – Cosmo Red Hot Read
How hot is your night going to get? Take the quiz and find out!
1. You're a curvy, cute and practical nurse, ready to unleash your inner naughty nymphette for your 25th birthday. You start with…
a. Chocolate cake.
b. Champagne. Lots of it.
c. A blind date set up by your daring best friend.
2. Your guy turns out to be popular (and insanely hot) wrestler Brody "The Bull" Bullock. You…
a. Run for the door.
b. Admire his hotness, then run for the door.
c. Imagine him naked.
3. You're meeting Brody at The V-Spot, a "Voyeur Motel." What are you wearing?
a. A cute sundress with wedge sandals
b. You're not going anywhere without Spanx
c. Doesn't matter. Brody is sexy enough that it's all coming off!
If you selected all of the above, you're in for the night of your life….