In The Vampire Hunter (In the Company of Vampires #2) by Michele Hauf, Kaz is a Knight (or vampire hunter) with the Order of the Stakes in Paris. He has sworn to kill vampires intent on harming humans and it's in just such a battle where he spots Zoe for the first time. Unaware that she's a witch, Kaz tries to protect her from harm and from realizing the men involved in the fight are vampires. He gets an incredible kiss from the beauty as a reward for his good deed, then realizes that he won't be able to walk away from Zoe without seeing where this strong connection takes them.
'And how could the rescuing knight not return for the damsel? Yet could he manage it without bringing along the danger of the world he lived in?'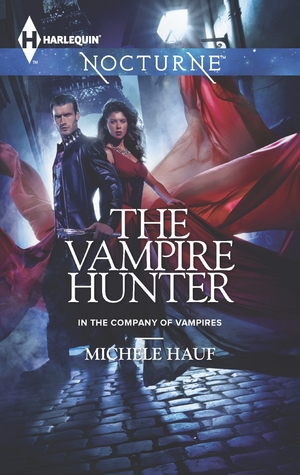 Zoe doesn't know what to think of the dangerous, handsome man she encounters on her walk home. She's seen a lot as a witch, both good and bad and has the scars to prove it. So even though Kaz seems like the type of guy who will walk away quickly, Zoe wants to explore the intense chemistry between them. But when she becomes tangled up in his investigation, she's afraid Kaz may not trust her based on his past experience with supernatural beings.
The man saw the magic, and muttered, "Y-you're a witch?"
"Yes."
"Witches creep me out." And he passed out.
"Is that so?"
The Vampire Hunter is a paranormal romance set in the modern day, but to me it almost has the feel of medieval times as it centers around a "knight and a damsel in distress" theme.
This quirky story has a fair amount of humor and a lot of heart as well. Both Zoe and Kaz have kind hearts and basically only want to make the world better in their own way. I really enjoy stories with solid characters who give freely of themselves to help others. Kaz being a hunter certainly does his part by trying to eliminate rogue vampires. And Zoe's spellwork is done in the hopes of helping vampires kick a habit that can make them harm others. Things may not always be black and white in their quest to do the right thing though, which made things seem a bit more realistic in my opinion.
Michele Hauf's writing style in this book is concise and to the point. There's not a lot of fluff when it comes to describing the scenes or even in the dialogue, which isn't necessarily a bad thing. It seems to suit the characters well, especially Kaz. I did really like the imagery when she described of the city of Paris itself, and in how Kaz and Zoe dressed, what their homes looked like. She made it easy to picture Kaz in his long coat with his hidden weapons, and Zoe in her eclectic home with her beloved cat Sid by her side.
This being a novel about a vampire hunter of course lends to a lot of action/fight scenes which were well plotted out and described precisely. Michele talks at the beginning of the book in the Author's Note about how she got the idea for this from the t.v. show Breaking Bad. I have to agree that it makes for a pretty interesting plotline, one I haven't seen before in this manner. I thought the involvement of so many types of paranormal creatures worked as well. It rounded out the story and added a few extra layers.
Overall I enjoyed The Vampire Hunter and think paranormal romance fans will like Zoe's sweet, caring nature and Kaz's journey to love and forgiveness.
Book Info:

Published January 7th 2014 by Harlequin |  In the Company of Vampires #2
A vampire hunter finds himself powerless to resist a bewitching stranger's dangerous magic in Michele Hauf's latest romance
In all his years of battling the undead, Kaz has never seen bloodlust like this. And as a Knight of the Stake, it's up to him to find out who's responsible for the mayhem sweeping the streets of Paris and put a stop to it. Kaz's task becomes infinitely more complicated when a very attractive witch wants to help.
With her quirky charm and irresistibly kissable lips, Zoë just feels right to Kaz, the way no mortal woman ever has before. But as a sworn enemy of the supernatural, can he really trust a witch? Especially one with dangerous secrets of her own?