The Varlet and the Voyeur by L.H. Cosway and Penny Reid is the 4th story in their rugby romance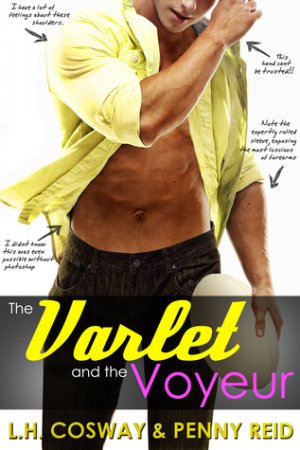 series. It follows the members of the Irish rugby team as they play hard on and off the field.
Will Moore is an American with Irish roots who has found a home on the Irish Rugby team. He's a quiet and contemplative sort, but that all blows up when his secret kink is revealed – he's a voyeur. But in keeping with his principles, he is only interested in being the watcher of committed married couples in a private contract between the participants. When a salacious story full of lies appears in the tabloids and damages his reputation, he knows he needs to do something that will prevent him from causing more harm to his team. When he has a roommate, his urges are curbed so the simplest solution is to hire a 'babysitter' of sorts to live with him and keep him on the straight and narrow.
Josey Kavanagh is a woman who has trouble with social norms. Outspoken and honest to the point of being cringeworthy, she's funny and smart if unorganized. She is studying to be a vet, and looking for a place to live after her parents have had to downsize to a smaller place. Josey is friends with Eilish and her husband Bryan, a teammate of Will's and she's been living off their generosity but when Bryan suggests she meet with Will to see if she'd want the job as his roommate and 'babysitter', she accepts. Their meeting shows Will that despite Josey's unorthodox behavior, she'll be perfect for the job.
Once they are roommates, Josey and Will become good friends as they spend their free time together, and the frissons of attraction between them leads to a friends with benefits arrangement on a trip to Australia. But will they be able to go back to being just friends when they return home?
I love this author duo and the characters they've created in this series. They are certainly not without their flaws but are always redeemable. In Will's case, a previous romance ended in serious heartbreak for him. He's decided that the best way to keep his heart intact is to not get involved in another relationship. Because he knows that voyeurism is his thing but doesn't want to risk someone misinterpreting his interest, he only gets involved with married couples with whom he's in no danger of causing a misunderstanding. But this backfires with his latest couple and the opportunistic paparazzi. Josey helps him deal with this and her refreshingly honest and naturally fun outlook on things buoy his spirits. She's not put off at all by his voyeuristic preferences but seeks to understand and support him.
The story is told in alternating points of view so we get all of Josey's quirky behaviour from both her own perspective, and from Will's. In fact, Will thinks that Josey is too hard on herself and endeavors to show her that despite what she thinks of herself, she is an attractive woman worthy of respect. Their sex scenes are pretty steamy and they are definitely compatible in the bedroom once they take that step. But making that into a long lasting relationship will require both of them to admit their feelings about each other, a tricky thing when neither wants to get hurt.
Because this is a sports romance, there are some scenes on the rugby pitch and in the locker rooms. The guys have Will's back even if they are surprised at first to discover his sexual preferences. Team Captain Ronan's wife Annie (first seen in The Hooker and the Hermit) works to help restore Will's reputation. Each chapter starts with some funny mini twitter conversations between the various characters in the story. Fans of previous series books will be happy to see familiar characters and I enjoyed Josey's friendship with Eilish as well as Will's with his teammates. For unique, funny, and sexy romances that are a little out of the ordinary, the Rugby series always delivers.

Book Info:

Publication: June 14, 2018 | Cipher-Naught | Rugby #4
He kept his salacious secret for years. But soon, everyone is going to be reading about it in their morning paper…
THE VARLET (and the VOYEUR)
William Moore is a long way from home. A farm boy from Oklahoma, he's now the most well-respected member of the Irish rugby team. But appearances are often deceptive, and Will isn't the clean-cut, all-American good-guy everyone imagines him to be. He's got a secret, one that will tarnish his reputation forever.
THE VOYEUR (and the VARLET)
Josey Kavanagh is a self-proclaimed mess, but she's finally getting her shi… uh, act together. She's set her sights on becoming a veterinarian, but there's one teeny tiny road bump. Her living arrangements are coming to an abrupt end, leaving Josey homeless and in need of a job to pay her way through college.
THE PLAN
What he needs is a companion to keep him on the right path.
What she needs is an apartment with free rent.
Will is convinced Josey will make the perfect companion, since she's brutally honest and basically 'just one of the guys.' Josey is convinced she can ensure Will doesn't succumb to his voyeuristic proclivities by keeping a scrupulous eye on him.
Except, what happens when the varlet is tempted by the voyeur, and vice-versa?!
Perchance something very, very volatile. And vexing.