The Vet's Unexpected Houseguest: Juliette Hyland is a new to me author. She won my heart and attention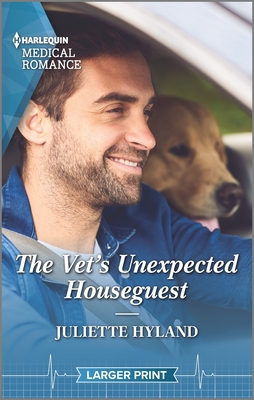 with the very first chapter. This twist of Harlequin Medical Romance with vets is just perfect. As a longtime cat mom and recent addition of a Golden Retriever, I could totally relate to an animal tale.
Kit was married for a very short time when tragedy left her a widow. She and her husband had a growing veterinarian practice thanks to a loan from his parents. Her in-laws held her responsible for their son's death and when she couldn't pay the loan back they took over the practice and kicked her out. Kit was able to get on with an older vet who was grumpy with people, but great with animals. After he had an accident that put him out of commission for a while he called on his son, also a vet, to come home and help. Unfortunately, he didn't really inform Kit about the decision. When August shows up at a cabin she lives in, they are both uncomfortable about the situation. They decide they will just have to make the best of it.
The author slowly shows the back story of both characters and how that has affected their lives on many levels. August plans to only stay until his father is better. He nudges Kit to try to get his father to make her full partner.
Both August and Kit show their huge love of animals and respect for both the pet and the owners. I learned some interesting facts about other types of animals besides the typical dogs and cats.
The romance between August and Kit moves slowly at first. They are able to get past grief and hurts and move on. This is so hard, as most of us know.
If an uplifting novel with charming people and pets is what you need to soothe your soul, you need to pick up a copy of The Vet's Unexpected Houseguest right away.
Book Info:

Publication: May 24, 2022 | Harlequin Medical Romance |
In Juliette Hyland's latest Harlequin Medical Romance, risking your heart is always a daunting task, but it's almost always worth it, especially when romance comes knocking on your front door…
Her new colleague……is also her new roommate! Widowed workaholic Kit has dedicated her life to her patients. She's determined to be the best vet in town and prove herself to those who've doubted her. But when Dr. August—aka her boss's prodigal son—returns to help at the clinic, she's faced with an unexpected and irresistible houseguest! August is a distraction Kit doesn't need. Although he's certainly one she wants! Can Kit take a risk on a rebel?