Go Hex Yourself by Jessica Clare: The last thing Reggie Johnson expected when she answered an assistant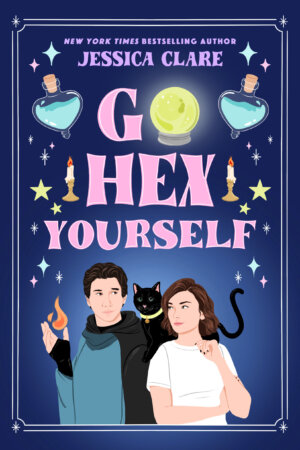 wanted ad in the newspaper was to find herself working for a witch. Yup you read that right a witch, it's got to be a joke right? Surely Dru Magnus is just some super rich eccentric old lady that everyone is humouring by playing along to her little magical fantasy… right? Yeah, nope, it would seem that magic is very much real and Reggie has now found herself as the newest familiar to two thousand year old powerhouse witch Dru Magnus. Oh and did I mention Dru's super broody warlock nephew Ben is out to get Reggie fired? But when someone mysteriously cursed Dru it is up to Ben and Reggie to band together and find a way to say the old kooky witch, all while trying to keep their own feelings in check.
Go Hex Yourself was pure addictive perfection. This was the kind of book that you could easily get lost in and boy did I just! I absolutely loved every bit of Reggie and Ben's hilarious story and getting a deep dive into the world of magic and mayhem. This was my first Jessica Clair book and I can safely say that it will not be my last, I just loved the way she worked the grump meets sunshine trope like a charm in this book.
"She smiles softly at me, and I know I'm in such danger. Not from hexes or spells, but from becoming entirely besotted with my aunt's familiar. I might already be there."
It was impossible not to find yourself getting totally invested in Reggie's journey into discovering magic. At first I wasn't to sure if I would like our girl Reggie because of her reluctance to believe in magic but the more I read the fast I found myself liking her character. I loved her super sunny personality even with her obsessive need to organise. I loved they way she bonded with aunt Dru and kind of really found herself being a familiar.
"Ben Magnus has the most full, most decadent mouth I've ever seen on a man? I knew he looked intense , like all his features were too much all at once, but each one separately is . . . really nice. Kissably nice."
As for our grouchy badass warlock Caliban Magnus or more recently known as Ben, he was simply just perfect. I loved our hero to bits, as far as the misunderstood hero trope goes Ben easily placed up there with the best of them. At first he came across as this hard nut to crack but his infatuation with Reggie was pretty evident right from the start and watching them interact as the story progressed got just more and more juicy. I loved getting to see him open up to Reggie and really coming out of this dark shadow. I really just loved Ben's entire back story and the way he has bonded with Dru over all the years.
The connection between our two main characters was just perfect, I loved that they both had this shared rocky family life and this helped bring them closer and understand each other. I absolutely loved that even though Reggie was this mere few to magic familiar she stood up for Ben to some of the big names in the warlock game. I really liked getting to see her find her voice even when it came to handling her parents.
"And you don't have to be his friend, but maybe you two could court. Or fig."
"Fig?" I choke.
"That's what they call it now, right?" She looks confused for a moment. "Some sweet, dried thing."
"Date?"
This book was a goldmine in terms of secondary character, in fact it was hard to narrow down my favourite! I'm going to start with Penny the ever eager familiar in waiting, I just loved the friendship that she formed with reggie. I won't lie there were more than a few moments that Penny had me questioning whether she was behind the entire cures, but ultimately she was a brilliant addition to this crazy little story. I really hope that Clare gives us Penny and Williams story soon, it is sure to be a holler. If you know me then you will know that I adore animals in books and in true magical fashion there is a cures cat, Maurice. I loved this sassy black fur ball and all his pervy tendencies. However the real star as far as I am concerned the true star in this book has to go to Drusilla Magnus. I absolutely loved this kooky old gal, aunt Dru was a total gem. I loved the way she pulled this entire story together and without giving too much away I loved her the stunt that she pulled at the end.
Go Hex Yourself is the perfect combination of Charmed, Sabrina The Teenage Witch and The Secret Circle. I was totally and completely enchanted by this quirky cute little romcom. This is most definitely gone to be one of my top 10 books of the year!
Book Info:

Publication: April 19, 2022 | Berkley Books |
When Reggie Johnson answers a job ad in the paper, she's astonished to find that she's not applying to work at her favorite card game, Spellcraft: The Magicking. Instead, she's applying to be an actual familiar for an actual witch. As in, real magic.
The new job has a few perks – great room and board, excellent pay, and she's apprenticing to a powerful witch. Sure, the witch is a bit eccentric. And sure, there was that issue with the black cat Reggie would prefer to forget about. The biggest problem, however, is warlock Ben Magnus, her employer's nephew and the most arrogant, insufferable, maddening man to ever cast a spell.
Reggie absolutely hates him. He's handsome, but he's also bossy and irritating and orders her around. Ben's butt might look great in a crystal ball vision, but that's as far as it goes. But when someone with a vendetta targets the household, she finds herself working with Ben to break a deadly curse. Apparently, when they're not fighting like cats and dogs, things get downright…bewitching.