The Wedding Party by Jasmine Guillory: Maddie has successfully turned her love of fashion into a career as a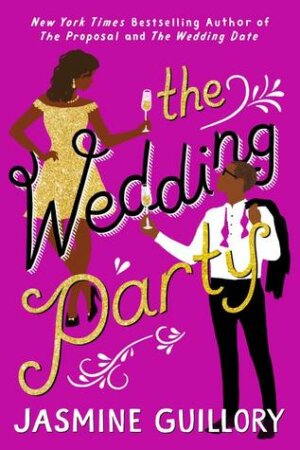 personal stylist. She loves providing women with the right clothes, and confidence, for any event. She's independent, fierce, loyal, and can be bitchy if pushed. While she loves a night out on the town, she also loves quiet nights in with pizza, wine, and TV or a movie.
Theo is a total workaholic. He's super focused on his work in PR for the mayor and he's definitely looking to continue working in politics. He's organized, nerdy, and a perfectionist. He's usually pretty calm and doesn't let anyone visibly get under his skin, no matter the circumstances. Nothing is better than a quiet night at home with pizza, work, his phone, and some TV.
Maddie and Theo have a best friend in common, Alexa, and they've been around each other for years. It's too bad that they got off on the wrong foot in their very first meeting, and Alexa has tried to steer clear as much as possible ever since. But one party begins to change things when Theo shows another side of himself and they spend the night together.
"But, Theo, this doesn't make sense. We don't even like each other."
He laughed as he traced her ear with his finger.
"What does that matter? Did it matter the last time? Or the time before that?"
From a hot hookup neither can forget to another one and another one, they finally set some rules for not quite friends with benefits arrangement. They have plenty of excuses to see each other as both are in the wedding party for Alexa's upcoming wedding, but before long they are breaking their own rules. They get to see beyond the surface and realize how much they have in common outside of Alexa. They support each other, banter, and might just become friends.
"If we're going to make rules, we might as well spell all of them out," she said.
He leaned against the headboard and picked up his mug.
"Good point. What's rule two?"
"This ends with the wedding. Maybe by then we'll have gotten it out of our systems, and we can go back to ignoring each other."
The Wedding Party is fun, sexy, and all-around delightful. Jasmine Guillory crafted another fabulous story with humor, romance, friendship, conflict, and heat. Ms. Guillory continued to create and develop new dimensions in characters we thought we knew. Fans of Helen Hoang, Christina Lauren, and Sariah Wilson will love The Wedding Party.

Book Info:

Publication: July 16th 2019 | Berkley | The Wedding Date #3
The new exhilarating romance from The New York Times bestselling author of The Proposal!
Maddie and Theo have two things in common:
1. Alexa is their best friend
2. They hate each other
After an "oops, we made a mistake" night together, neither one can stop thinking about the other. With Alexa's wedding rapidly approaching, Maddie and Theo both share bridal party responsibilities that require more interaction with each other than they're comfortable with. Underneath the sharp barbs they toss at each other is a simmering attraction that won't fade. It builds until they find themselves sneaking off together to release some tension when Alexa isn't looking, agreeing they would end it once the wedding is over. When it's suddenly pushed up and they only have a few months left of secret rendezvouses, they find themselves regretting that the end is near. Two people this different can't possibly have a connection other than the purely physical, right?
But as with any engagement with a nemesis, there are unspoken rules that must be abided by. First and foremost, don't fall in love.