The Wedding Pearls by Carolyn Brown is an amazing story about family, life,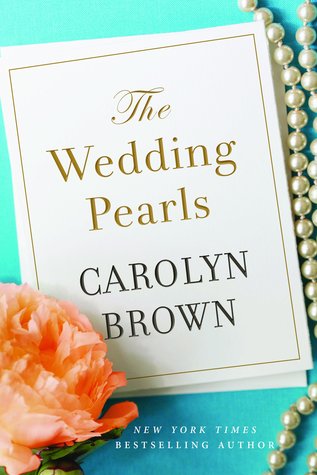 love, and finding out who you are and were you came from. This book is a lot like the golden girls meets Thelma and Louise.
Tessa Wilson has always known that she is adopted, it was never hidden from her, she just figured that he birth mother did not want her. She can't complain because the mother and father that she has been blessed with are amazing, supportive, loving people. One Day Branch Thomas wanders into her travel agency letting her know that her birth mother and grandmother want to meet her, get to know her and take her on a month long trip around the great state of Texas. Unsure if she really wants to go, her adoptive mother encourages her to take this time, get to know them, and document her feelings about this trip in her journal.
All I can say is 5 crazy women and Branch in a 1959 Cadillac called Mollybedamned makes for an exciting, fun filled and very emotional trip.
Melody is the 16 year old niece who needs guidance, and someone to help her see the light, this is the roll that Tessa plays, big sister to Melody, she helps the young girl figure out what is important.
Lola, the birth mother, she is so much like Tessa. At first Tessa does not want to like Lola, feeling that is a betrayal to the mother that raised her, but as the trip moves along, she finds that Lola is a good friend and confidant, they find an ease about them and start to open up to each other, leaning on each other for support when times get tough.
Ivy and Frankie are the elderly hell raisers on this trip. Along with "Blister", Ivy's oxygen tank, these two make the trip and do everything from counting cards at the casino, giggling at Duck Dynasty Marathons, and having some shockers up their sleeves. These two had me laughing, made me cry and made me want to jump in the car and head off into the sunset with them.
Then there is Branch and Tessa, the sparks fly between these two, and the longer that they are together, the closer that the bond that they forge grows. In the end, there are HEA for Lola and Tessa. I totally enjoyed this amazing story .
I would recommend The Wedding Pearls by Carolyn Brown to everyone that loves a feel good, family story about love, laughter, and making memories to last a lifetime.
Book Info:

Publication: December 15th 2015 | Montlake Romance |
Tessa Wilson's life is all over the map. She may be clumsy, but this time she's stumbled into a pickle by choice, not by accident. She's agreed to take a month-long trip around Texas jammed into a '59 Cadillac with a drama-loving teenager, two elderly spitfires, and—oh, yes—her biological mama who gave her away at birth. And the ride gets even crazier when hot-as-sin cowboy Branch Thomas crosses into her lane. They don't call him the sexiest man in the Lone Star State for nothin'.
As the miles pass and sparks fly between Tessa and Branch, her grandmother starts dropping hints about family wedding traditions. And as Tessa discovers the power of her budding friendships and the unbreakable strength of her newfound family of strong Texas women, she wonders if she's also on the road to the biggest adventure of all: true love.