In The Whole Way Home by Sarah Creech, Growing up in the small mountain town of Gatesville, Virginia, Joanne "Jo" Lover's life revolved around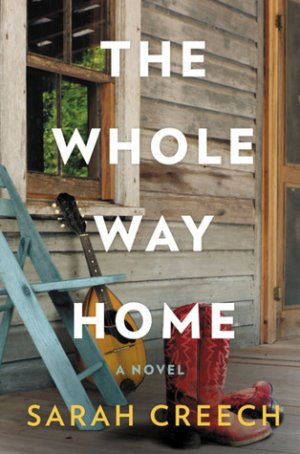 music. From gospel to country to bluegrass, she and her two close friends, J. D. and Rob, played their music for anyone who would listen. These days, Jo is a bona fied country music star out on stages with her fiddle and her trademark red cowgirl boots. But even with her career on the rise and fans galore, she can't help but remember the days when she, Rob, and J. D. were new to Nashville struggling to make ends meet. And how it felt to be in love with J. D. before everything fell apart.
"This fine Virginia lady's music is beloved by fans and critics alike. She has a voice like an angel and boots that stomp like the devil."
J. D. may be a country superstar along with his band the Empty Shells, but he knows if he asked the one person whose opinion matters to him, Jo's, she'd consider him a sellout. And there are days he'd agree. But caught up in the machine that is bigtime country music, J. D. continues to plug away with the same party songs until Jo's record label offers him a deal. With a chance to get back to their roots, he and his band accept, not knowing it could threaten to unravel their tight-knit family or throw him and Jo together in the studio. But after an impromptu duet on stage shows J. D. the magic is still there between him and Jo, he decides to finally fight for the music he wants to make and the love he once let go.
'He wished he could forget the connection between them, wished he could let go of his love for her for good, but he still hadn't figured out how to do that.'
Told from multiple points of view and set in country music capital Nashville, The Whole Way Home was a touching standalone story of loss, heartache, love, and hope.
'That was something she'd learned to do–dance despite the heartbreaks. She was practiced at the art of putting trouble aside.'
This was quite the emotional journey. One that had a bit more depth to it than I first expected after reading the book summary. And right away I should probably warn that it will likely have triggers for some readers, including assault, rape, recreational drug use, suicide, and cheating. That being said, Sarah Creech created a group of characters and described two communities in a way that felt whole and real to me. First was the mountain town that main characters Jo and J. D. grew up in, Gatesville, Virginia, and second of course was Nashville itself. I think the vibe of both locations was captured quite well and we got a good sense of what people were like there and what both towns were really about. I also liked that we got to see the good and the bad side of these areas as well as the ups and downs of the country music business to keep things balanced out.
Without giving away secrets from J. D. and Jo's backgrounds, I can say they both endured some traumatic events which they hid from the world–even while performing on stage in front of thousands of people. Their relationship was at times basic, with their easy musical connection and years of friendship shining between them. But Jo and J. D. were also caught in a tangle of emotions they had never dealt with over the years which complicated their current career and personal decisions. I will admit that I questioned some of the decisions they made and their lack of communication at times, but again, it's probably more realistic to see such conflicts than for everything to fall in place perfectly with no struggle.
The secondary characters and their own subsequent storylines were every bit as interesting to me as Jo and J. D. were. It kind of rounded out the musical community and added some other perspectives from people at different stages of their career: from guys like Denver and Alan who were just starting out to old timers like local DJ Floyd Masters. Their stories might not have been quite as dramatic as J. D. and Jo's, but it held my attention as it all was woven together.
The Whole Way Home is sure to be a hit for fans of country music as we watch Jo and J. D.'s lives play out like a sad country song. Filled with poignant, moving passages and a good dose of Southern sass and charm for good measure, I think this is one story in which readers will certainly get swept away.
Book Info:

Publication: June 6th 2017 | William Morrow |
A ferocious talent on the brink of making it big in Nashville must confront her small town past and an old love she's never forgotten in this engaging novel—a soulful ballad filled with romance, heartbreak, secrets, and scandal from the author of Season of the Dragonflies.
Playing to packed houses while her hit song rushes up the charts, country singer and fiddler Jo Lover is poised to become a big Nashville star like her idols, Loretta, Reba, and Sheryl. To ensure her success, Jo has carefully crafted her image: a pretty, sassy, down-to-earth girl from small-town Virginia who pours her heart into her songs.
But the stage persona she's built is threatened when her independent label merges with big-time Capitol Records, bringing Nashville heartthrob JD McCoy—her first love—back into her life. Long ago Jo played with JD's band. Then something went wrong, they parted ways and took their own crooked roads to stardom. Now, Jo's excited—and terrified—to see him again.
When the label reunites them for a show, the old sparks fly, the duet they sing goes viral, and fans begin clamoring for more—igniting the media's interest in the compelling singer. Why is a small-town girl like Jo so quiet about her past? When did she and JD first meet? What split them apart? All too soon, the painful secret she's been hiding is uncovered; a shocking revelation that threatens to destroy her reputation and her dreams. To salvage her life and her career, Jo must finally face the past—and her feelings for JD—to become the true Nashville diva she was meant to be.