In In the Cowboy's Arms by Vicki Lewis Thompson is the first of her Thunder Mountain Brotherhood series to be featured as part of the Harlequin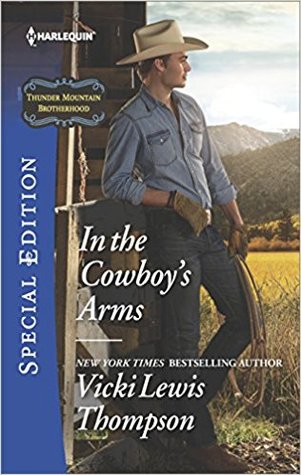 Special Edition imprint, necessitated by the upcoming closing of the Harlequin Blaze line. While the heat factor has been tamed a bit as a result, the story still delivers an entertaining and sexy read, with familiar characters from previous stories giving some cameo appearances in this Hollywood superstar/cowboy romance.
Matt Forrest is one of the foster sons taken in by the Padgetts at Thunder Mountain Ranch in beautiful mountainous Wyoming. Growing up on the ranch after being abandoned by his mother, he'd developed solid friendships with his foster brothers and has become a handsome and hardworking man, with a talent for acting. He's parlayed that into his first big acting gig in Hollywood but it's come with a price – a female co-star, stung by his rejection of her, has made the press believe he'd been engaged with her in an adulterous affair. Needing some time to himself to sort out what to do about the scandal, he's come home.
Geena Lysander was never able to parlay her acting ability into a career in front of the camera, but off set she's a valuable and sought after public relations agent. Matt is her client, and she has ideas of how to handle the scandal brought on by his co-star. But Matt takes off for his family ranch, not wanting to listen to any advice that doesn't involve telling the truth of what really happened. Geena realizes she's taken the wrong tack with Matt and follows him home. Once there, the sparks of attraction that had flourished between them back in Hollywood can't be denied, especially when they are spending time alone together in the calm countryside. Can Geena find a way to help Matt through this crisis, and show him that working together as a team can lead to something more?
I've enjoyed every story I've read by this author, and this is another example of her stellar writing, engaging characters and cowboy spirit. The men are handsome yet humble, hard working, lovers of the land and proud of the animals they raise. Matt fits well into the family of foster brothers even with his star status, and shows that when he's home, he's still one of the guys. There are some fun scenes with him and his brothers, the teasing and camaraderie one expects from this group also showing the affection they feel for each other. Rosie in particular is a caring and wonderful mom to all her sons and to their new partners, and the down home feel of the ranch is conveyed well.
Geena is comfortable with her life back in Hollywood but finds ranch life pretty fascinating too. I like how she adapts to the slower pace and shows an interest in all facets of Matt's life. She's not interested in him as a star but as a man. They share some steamy scenes together as they get a chance to indulge in the attraction between them out of the prying paparazzi eyes. Of course they still have to deal with the reality of what brought Matt out to the ranch in the first place and Geena comes up with some good solutions – she just needs to get Matt to look at the bigger picture. The conflict between them leads to a few ups and downs but they get their happy ending and the epilogue gives a glimpse into the next story in the series. For family, friendship and sexy romance, Thunder Mountain Ranch is the place to be.
Book Info:

Publication: May 23, 2017 | Harlequin Special Edition | Thunder Mountain Brotherhood
Return to Thunder Mountain
Matt Forrest was born to be an actor, but grew up a cowboy. That's why, when things go haywire after he shoots his first Hollywood movie, he retreats to Thunder Mountain Ranch. Because it's home–where his parents and foster brothers can help Matt find what he really wants out of life. So when someone he wants follows him to Wyoming, things get very interesting!
PR agent Geena Lysander isn't about to lose one of her best new clients–so she goes after him! And, yes, it's complicated…because she is attracted to Matt, and not just for his movie-star looks. As she gets to know the man behind the cowboy, their professional relationship becomes passionately personal. Could Matt's next big role be as Geena's leading man?