Ok ladies, get your tissues ready because TThe Winter Wedding Plan (Misty Point #2) by Olivia Miles will make you cry, and have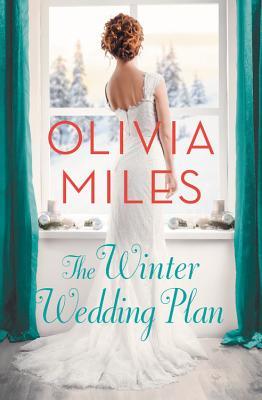 you rejoicing at the sweet HEA and promise of a happy life. This is the story of Charlotte and Greg.
Charlotte Daniels is a single mother trying to make up for the mistakes of her past. She has hurt her sister Kate, she has hurt her family, but she was welcomed back into the fold, and all she wants it to prove to them and to herself that she is not a screw-up, that she can stand on her own and make the best life possible for her and her daughter. But she is keeping secrets. Everyone, including her sister and parents think that Jake "The Snake", father of her daughter and richer than dirt is helping Charlotte financially. But how can Charlotte tell them that he wants nothing to do with their daughter, that he will not even acknowledge that she exists? She has to keep the secret, and find a way to make more money. When Kate offers her an account of her very own, Charlotte jumps at the chance to make Kate proud of her, to win back her sisters trust and to prove to Kate that she can be counted on. What she does not count on is Greg Frost offering her the opportunity of the account, at a price.
Greg Frost is in a tight spot. He is set to inherit the Frost Greeting Cards empire, but first he has to help his mother win one of the biggest accounts, by showing that they are a family oriented company, and that includes Greg's fiance. Problem is, Greg is no longer engaged, and cannot share that information with his mother or she will give the company to a long lost cousin. To solve the problem, Greg asks the party planner, Charlotte, to pose as his fake fiance and she can have his business. He did not anticipate Charlotte showing up on his doorstep with a baby in tow.
As Charlotte and Greg get ready to host the Frost Holiday party, as they spend time together with Charlotte's daughter, doing baby's first Christmas activities, what started out as a fake arrangement begins to feel very very real. But when Greg's ex shows up and throws a monkey wrench in their growing relationship, when Kate learns the truth about Jake, about Charlotte's arrangement with Greg, it could throw everything off track.
What I loved the most about this book is Charlotte. I could relate to her on so many levels. She does not see herself the way that Greg and Kate see her. She looks at herself and sees a failure, she looks at herself and sees someone who does not deserve to have happiness and love in her life. When she comes clean to Kate about Jake and Greg, Kate is supportive and loving. I swear I was in tear for the entire chapter where the sisters talked and cleared the air. Emotional, simply emotional. And Greg and Charlotte, I loved that Greg fell little by little not only for Charlotte, but for Audrey as well. Knowing that without them, his life would never be the same and the home that they were building together would go back to being just an empty house.
I love this series and would love to see Colleen and Bree get their HEA. I would highly recommend this series, but start with book 1 so that you have the entire family dynamic between Charlotte and Kate. Believe me, it will be totally worth it.
Book Info:

Publication: September 26th 2017 | Forever | Misty Point #2
All she wants for Christmas is a second chance . . .
Charlotte Daniels has made her share of mistakes, but now that she's a single mom, she vows to do better–and that starts with a new career. Working at her sister's event-planning company is just the fresh start she needs.
Kate Daniels has finally forgiven Charlotte for her betrayal, but forgetting it is harder. But as the holidays approach and Kate has her own wedding to plan, she has no choice but to turn to Charlotte for help to throw a high-profile client the holiday party of the season.
Charlotte leaps at the chance to redeem herself . . . until this irresistible client asks her to pretend to be his fiancée for the party. She knows their charade won't come without consequences–not just for her fresh start with Kate, but also for her own daughter.
As Kate's wedding draws near and Charlotte's fake romance starts to feel more and more real, will she fall back into the mistakes of her past, or finally prove herself to Kate once and for all?
In the vein of New York Times bestselling authors Susan Mallery, Robyn Carr, and Elin Hilderbrand, comes the second in a women's fiction series about the complicated ties of sisterhood that bind us together and sometimes tear us apart.