The Woman at the Front by Lecia Cornwall: As war rages across Europe in the winter of 1917,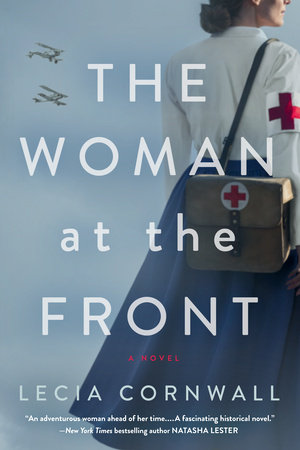 Eleanor Atherton begins her own battle to pursue her dream to practice medicine. Finishing her medical degree near the top of her class, El is prohibited from practicing her craft, shackled by the social conditioning that proclaims that women are not designed to be doctors nor have the strength or resilience to endure matters of life and death. Having grown up the daughter of a doctor herself, El seeks acknowledgement and pride from her parents, yet is constantly thwarted by their gendered view of the world and thus, when an opportunity arises to head to the Western Bank in France, she grabs it with both hands.
Courageous, tenacious and inspired, Eleanor finds herself amidst the devastation and carnage, nurse-maiding Louis, a childhood friend and Viscount of Yorkshire, and before long, the mantra 'we are at war', provides the opportunity for Eleanor to do what she was born to do – save lives. For Eleanor, Sergeant MacLeod, a casualty bearer who was named lucky for good reason, quickly becomes her rock and confidence, and after one terrible night of battle with more dead and dying then one can possibly fathom, she finds more than her inner strength; her heart, her passion and reason for being. And as one dangerous decision leads to another, Eleanors world is literally re-cast and before long her compassion, talent and impact on others serves more than just the war effort.
Throughout, Cornwall successfully captures the early 19th Century limitations that gender roles equally placed on men and women. And whilst it appeared one gender largely benefited, the reality is, in times of war, no one comes out a winner, given men, nay boys, were expected to throw their lives down the gauntlet of senselessness in the name of honour using the very idea of protector to somehow spur them on and justify their self-sacrifice. The conflict and therefore tension between what was practicable and what was social construct was managed effectively, particularly given Eleanors skills as a doctor and surgeon were in dire need, and as she quickly discovers, simply being in the causality clearing station 20kms shy of the battle meant all hands on deck.
For the most part, themes of gender were clear and poignant given nothing made sense, least of all saying no to someone who could actually help. And whilst the very notion that someone would be left to die rather than be treated by a woman was absurd, Cornwall managed the historical reality effectively.
As a poignant and socially relevant historical romance, this has backbone in spades. And whilst El was largely flawless, she walked a heroic line that shaped the pathway for young girls and women to dream their own dreams and throw social convention to the wind where it belongs. Overall, this is simultaneously a horrific and beautiful read that will sit weightily in any soul, as it covers the spectrum of life, love, and death in one beautifully honest beat. I highly recommend and Lest We Forget.
Book Info:

Publication: 28th September 20210 | Berkley |
When Eleanor Atherton graduates from medical school near the top of her class in 1917, she dreams of going overseas to help the wounded, but her ambition is thwarted at every turn. Eleanor's parents insist she must give up medicine, marry a respectable man, and assume her proper place. While women might serve as ambulance drivers or nurses at the front, they cannot be physicians—that work is too dangerous and frightening.
Nevertheless, Eleanor is determined to make more of a contribution than sitting at home knitting for the troops. When an unexpected twist of fate sends Eleanor to the battlefields of France as the private doctor of a British peer, she seizes the opportunity for what it is—the chance to finally prove herself.
But there's a war on, and a casualty clearing station close to the front lines is an unforgiving place. Facing skeptical commanders who question her skills, scores of wounded men needing care, underhanded efforts by her family to bring her back home, and a blossoming romance, Eleanor must decide if she's brave enough to break the rules, face her darkest fears, and take the chance to win the career—and the love—she's always wanted.