The Wright One by K.A. Linde picks up right where The Wright Love ends. While Sutton is trying to come to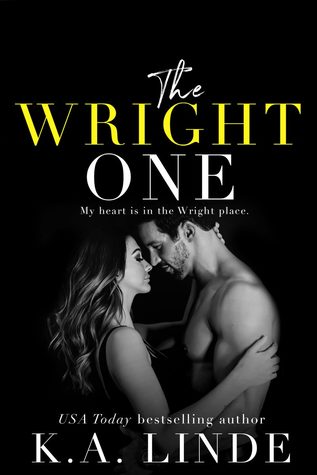 terms with dating again, a secret threatens the growing relationship between Sutton and David. There is plenty of drama, conflict, and angst as both have to figure out the best way forward. David has been waiting for Sutton for a year and he's not willing to give up on them without a fight.
Family is definitely an integral part of this story. Both have strong ties to Sutton's siblings and their significant others. Sutton's brothers are very protective of their sister and want her to be happy after she's experienced so much loss. Morgan is somewhat in the middle as David's best friend and boss and Sutton's sister. David's family is interesting and a bit of a surprise.
"I wish it was that easy."
"You can make it that easy."
He nodded, meeting my gaze again. "Then, let me try."
Sutton and David continue on this rollercoaster. Their relationship is easy when it's just them. Sutton is trying to come to terms with everything and the added pressure of other's opinions weighs on her. She's beginning to find out who she is outside of being a mom in her new life after losing her husband. It's a journey that is difficult and painful, but also heartwarming. David is really sweet and very supportive.
"And how do you feel, Sutton? Because, from where I'm standing, I feel like we're in the same damn place we started."
"I don't know. I don't know. This all just happened. And I don't know."
The Wright One has plenty of tension, angst, heat, and surprises. K.A. Linde continued to develop the characters and relationships while balancing the romance and conflict. Ms. Linde provided great characters that certainly entertain and a family in the Wrights that are always loyal to each other. This duet should be read in order, but the duet works as a standalone from the Wright series. Fans of Kendall Ryan, Kristen Proby, and Lorelei James will enjoy The Wright One.
Book Info:

Publication: Published May 29th 2018 | K.A. Linde Inc. | Wright Love Duet #2, Wright Series #6
A new sexy contemporary romance duet from USA Today bestselling author K.A. Linde…
Secrets swarm all around.
My world is crumbling under the strain.
I don't know if we can survive this.
My heart is in the Wright place.
But is his?
The Wright One is the last book in the Wright Love Duet that began in The Wright Love. Find out if Sutton and David survive their world of secrets in the conclusion to the Wright Love duet!