The Wright Secret: K.A. Linde delivers a swoony friends-to-lovers romance, but what makes this story truly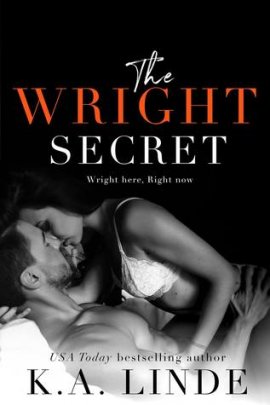 special is the strong and glass-ceiling-shatterng heroine, Morgan Wright. She's the young CEO of a Fortune 500 company, and female readers will walk away feeling empowered and motivated to tackle their own dreams.
Linde has given Morgan her happy-ever-after and perfect march in Patrick Young. He believes in her, supports her and isn't threatened by her success. He's also charming, likable and casually sexy, and I predict he will be on many book boyfriend lists this year.
Morgan and Patrick's love story is twelve years in the making. He's her brother's best friend, and she's had a crush on him since she was a teenager but has only ever seen her as a friend. When he does see her in a whole new light, it's breathtakingly romantic and heartwarming. You can't help but cheer for these two extremely likable characters to realize their epic love story, and The Wright Secret is another well-written and memorable must-read installment in the incredible Wright series.

Book Info:

Publication: 1/9/18 | Self-Published | Wright series #4
A new brother's-best-friend stand alone romance by USA Today bestselling author K.A. Linde…
I was just his best friend's little sister.
But he was always more than that to me.
After twelve years of pining over Patrick's easy smile, baby blues, and captivating charm, I decide to take matters into my own hands—and completely blow my chance.
Who knew a self-proclaimed manwhore would decide to be a gentleman the first time I'm naked in his bed? Definitely, not me. But when I land there again, neither of us has any intention of stopping.
There's only one problem: nobody can know. Especially not my three older brothers. If they found out, all hell would break loose.
So I'm willing to keep our secret…
Because I want him Wright here, right now.