Their Desert Night of Scandal by Maya Blake is the perfect Sheikh story true to Harlequin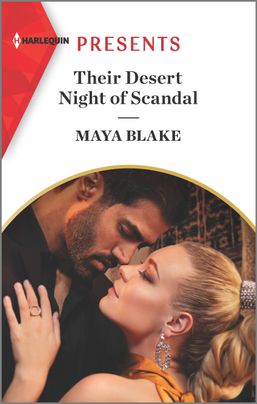 Presents promise: an escape to exotic locations where passion knows no bounds.
Full of drama, passion, emotional, exotic, exciting and romantic adventure, I loved Maya Blake's latest release. Commencing the drama in the first chapter, Lauren's brought in front of the mighty Sheikh Tahir begging for help. Ready to throw her to the curb when he strides out to his helicopter Lauren's given a 5 second opportunity to jump on Tahir's helicopter. Off they swish to a life changing 24 hours in the desert.
I loved this story for many reasons. Tahir is the perfect imagined Sheikh and he looks exactly how I imagined him on the cover. He's strong, passionate, a leader, loving and handsome. He's someone you'd want on your side. Lauren was a very likeable heroine. She's tied to her family and with Tahir's help and encouragement can she break free? An interesting game is played which held my attention and as the world spun around them I enjoyed the journey of Tahir and Lauren falling in love again. I enjoyed the plot of Lauren's brother bringing them together again and I felt what the author was writing.
The only thing I may of changes is the 12 year gap between Tahir and Lauren seeing each other again but what I loved about it was the age this made Lauren. I feel more comfortable reading about early 30s characters rather than the early 20s. I enjoyed the grip on my heart as the story hurtled along. Tahir's country was described beautifully and emotion was on point.
Loved Their Desert Night of Scandal and I'm looking forward to the second instalment.

Book Info:

Publication: October 2022 | Harlequin Presents | Brothers of the Desert (Book 1)
Twelve years after Sheikh Tahir almost lost his throne, the woman who betrayed him arrives at his palace gates. Lauren's request to help her brother is Tahir's chance to—at last—make sense of her betrayal. On one condition: they spend twenty-four hours in the desert…alone.
A night at Tahir's command is more than Lauren bargained for. Any trust left between them is fragile. Yet with every passing hour, the inescapable intimacy empowers Lauren to lay bare the scandalous truth of their past—and her still burning desire for Tahir…