Extra Witchy by Ann Aguirre: Leanne Vanderpol is just your average witch trying to mind her own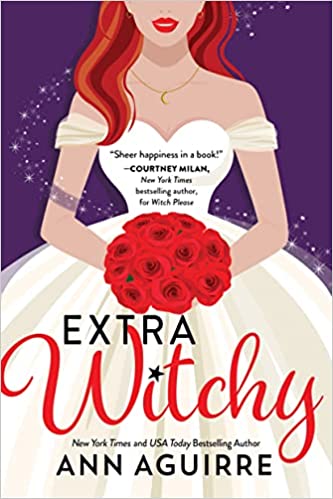 business, drink her wine and chill with her coven. After two failed marriages she is just about done with romance, all she has time for now is a bit of no strings fun. Another thing she has absolutely no time for is cleaning up the mess of other people! Which is why she decides to run for city council, but Leanne can't help but worry that her past might hold her back, which is how she finds herself turning a playful joke into a very real proposal for Trevor Montgomery.
Trevor has pretty much lived his best life while in high school, everything after has been pretty much a failure. Now he can't help but feel a bit lost and unsure of himself which is what makes Leanne's proposal the perfect solution for him. All he has to do is play the role of house husband while he tries to figure out his life again. It also sure doesn't hurt having a total knock out as his wife. But what happens when the lady who doesn't believe in love anymore begins to start falling in love with her husband?
I just can't help but love the Fix It Witch seres! These kooky witchy ladies just keep worming their way into my heart and I absolutely loved reading Leanne's story! I have to say that I loved that Leanne and Trev are quite the unlikely couple but really in this cute little universe they just work. Okay before I go any further I have to say that I would recommend reading the pervious two books in this series before diving into Extra Witchy, purely because this book pretty much jumps right in with little to no back story.
Both main character were amazing in their own rights but together they were just magic! I loved that their relationship smashed gender roles and stereotypes in the best way possible! This is one of the things about this series that really stands out for me. I really liked getting to know a bit more about Leanne, in the previous books she was this free spirit, super chilled witch and now we really get to know who she is. I loved the fact that even though she was so chilled she had major boss girl vibes going. She was organised, strong minded, determined and most importantly she wanted to make a positive difference in the world! I really enjoyed getting to see her making her stand and really coming out from behind the scenes. More than anything I loved getting to see her falling in love with Trev! After having her heart broken in to failed marriages Leanne had pretty much closed her heart off to romantic love so it was just the cutest getting to see her falling for Trev without even really realising it.
Now our hero was a bit different in this book, Trevor was more lost and broken than this alpha hero and this just worked fine for his story. We start off by seeing him struggling to deal with his depression and not really know where he is going in his life. Living in his parents basement really hasn't been helping him find his way either, which is why the arrangement with Leanne really is perfect for him. I loved that getting out of the house gave him a chance to find himself again and in away to breath again. We get to see his sensitive, caring, loyal and hardworking side come out as he steps in the role of house husband. I loved getting to see him find his own self worth and niche in social media as he helps manage Leanne's social media accounts. For me I think Trev was the real star of this book his story was uplifting and filled with hope.
I just loved the chemistry between Leanne and Trev, these two were fire on the pages. I really enjoyed getting to see their relationship build from just these casual hook ups to a marriage of convince and ultimately into real love. One of the things that I really liked was the fact that Leanne never once tried to fix Trev, she was there to support him but she didn't try to change him. I really liked that both Leanne and Trevor were learning, making mistake and helping each other as they found their feet in this relationship.
Extra Witchy is a must read! I have been loving this series, not only are they incredibly entertaining but I loved that they are so inclusive in representation. Add in the cute little magicy element and this was a total win for me!
Book Info:

Publication: October 4th 2022 | Sourcebooks Casablanca | Fix-It Witches #3
After two failed marriages, Leanne Vanderpol is here for a good time, not for a long time. She only loves the witches in her coven, and she cares more about her career than happily ever after. A difficult past makes her skittish, and she doesn't trust relationships to stick. But when she decides to run for city council instead of wasting her talents cleaning up messes for the mayor's office, she fears her past could be used against her.
Unless she can find the right husband to shore up her political career…
Trevor Montgomery might have peaked in high school. He was popular then, and in college as well, but he partied away his future, met the wrong person, and everything fell apart. Now he's jobless, dateless, and hopeless, at least according to his toxic family. Then a chance meeting with the redhead of his dreams offers an unexpected ray of light just when he needs it most.
Can a woman who doesn't believe in forever find true love with a man who's stopped believing in anything at all?