"Don't ever ask me again if your kisses are all right, dark one. They always are."
In This Wicked Magic by Michele Hauf, Vika St Charles is a witch of the light who aims for perfection and may be just a tad obsessed with cleanliness. She and her sister Libby run their own clean up service which caters to the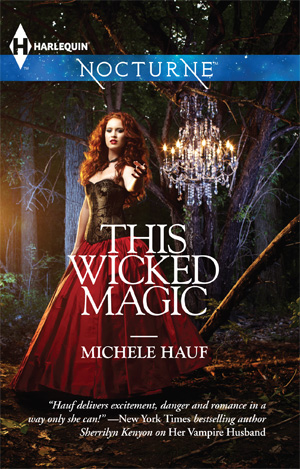 paranormal. It is during one such clean up that Vika sees Certainly Jones for the first time, roaming the streets of Paris looking like a derelict. To her surprise he sees her as well, even with the wards she put up to shield them. Vika can sense the darkness and agony this man is going through and doesn't want to get involved. However when she's able to help him remove a demon from his soul, she feels a connection to him she can't explain. When he finds her again and pleads for her continued assistance, she can't stop herself trying to "clean up" this beautiful, dark witch and finds herself caring more than she should.
"Vika walked along the marble counter, trailing a fingertip along the cool, curved edge. A means of grounding herself, because she suspected the witch was powerful and wielded much darker magic than she could imagine. It hummed from him, and it felt wrong in the air."
Certainly "CJ" Jones is battling the demons that are attached to his soul after his trip to Daemonia. He feels like a prisoner in his own body and must stay in the light to avoid the demons taking control. When he spots Vika's headlights at the end of the street, he knows it's his only chance to keep the demons at bay. He is astonished when she is able to do what no one else has so far…exorcise one of the demons trapped within him. He knows he must convince her to help him get rid of the remaining demons or risk completely losing control of his body and sanity. What he's not prepared for is his feelings for Vika. He's spent a lifetime learning his craft and has never taken the time for a relationship. Now he understands how incredible the balance of light and dark can be and can't let go.
I'm hooked after reading this book! I loved all the characters she created…they are interesting and have a lot of depth to them. Vika and CJ's personalities balance each other out very well which makes for some very steamy scenes! I was literally glued to this book (well okay, ebook) and didn't want to put it down until I finished it cover to cover. I will definitely be reading more of Michele's books in the very near future and highly recommend this one.
Rating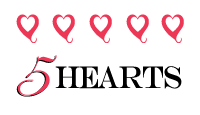 Book Info : Publication Date: February 5, 2013 | Series: Harlequin Nocturne (Book 153)
His destined mate…Certainly Jones has pushed it too far this time. Gnawing and clawing at his soul are the demons he unknowingly carried back from his quest into their land. Weak and exhausted, the dark witch gazes down the dim, cobbled street at his only hope—a lone vehicle with blazing headlights. Desperate, he makes a mad dash for the light, and the striking woman illuminated in its wake.Vika senses him before she sees him. The good witch with emerald eyes and fiery red hair has never dabbled in dark magic. But one look at CJ turns her life upside down. Soon Vika is lured into his dangerous world…and his powerful arms. A few sultry kisses are not enough to save CJ from his demons—it's going to take some seriously potent sorcery. And they're running out of time.