In Must Like Kids by Jackie Braun, Julia Stillwell is an image consultant hired to get CEO Alec McAvoy's reputation back in order after a verbal faux pas during an interview. She is a single, busy mom of two and thinks the executive is most likely spoiled and selfish. From their first meeting, she knows they are both strong individuals who will have to find a way to work together but is not expecting the spark of physical interest they share. She finds the more they work together on his PR issue, the more difficult it becomes to ignore her growing feelings for Alec.
"What do you have in mind?"
"A lot more than dinner, but we'll start with that." He winked and she swore she felt sparks shower her skin.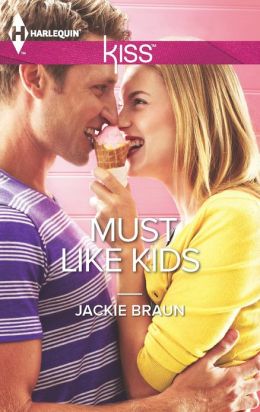 Alec McAvoy grew up in boarding schools and with only the occasional visit to see his grandfather. He felt as though he was a burden to his parents while they were out partying and living the high life. He's now an executive working for a company that makes and sells baby products although he avoids children in his personal life. He doesn't feel he has a lot to offer in that respect, having never had a normal family life growing up. When he lets a comment eluding to that fact slip during an interview, a media onslaught begins and his job lays in the balance.
Julia is hired by his company to help clean up the mess and although Alec resents her at first, he can not deny the attraction he feels towards her. He realizes once he meets her children and sees their love for each other that she might be the one to help him create the family life he's always wanted.
Jackie Braun has created a warm, touching, romantic story. The characters are believable and you cheer them on, wanting them to build a relationship. The situation is certainly relevant as well…a widowed single mom who wants to date but wants to also shield her children. I loved how the qualities that Julia feels are the most harmful to a relationship are exactly what Alec needs most in his life.
I would definitely recommend this book to anyone looking for a charming, quick read.
Rating:
Book Info: Publication Date: February 19, 2013 | Series: Harlequin Kiss (Book 8)
"Children have a place and it's anywhere I'm not!"It was one off-the-cuff remark. But when it goes viral, Alec McAvoy is labeled the playboy CEO of Best for Baby—who hates kids!Enter Julia Stillwell, image consultant extraordinaire. The widowed mom of two has a knack for changing public opinion, and she'll teach Alec all he needs to know. But once they start this makeover, they don't want to stop…and that's when one little kiss leads to many, many others!So now Julia's worked her magic, but is Alec's transformation only skin-deep? Or can this hunky executive convince her that he is ready to become a family man—so long as it's with Julia?Harlequin KISS has 4 new fun, flirty and sensual romance books available every month.