In Three Christmas Wishes by Sheila Roberts, Just when Riley was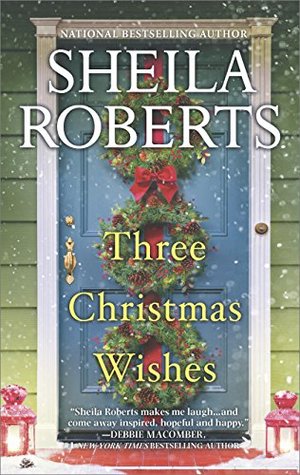 closing in on her Christmas wedding day, her fiance announces three weeks before the big day that he's changed his mind and that he's in love with one of her would-be bridesmaids. Angry and ready to give up on men completely, Riley, her older sister Jo, and their friend Noel head to the local mall for retail therapy. But a strange and possibly magical encounter with Santa himself has her cynically keeping her eyes open for the supposed perfect man she'll soon be meeting.
"I have the perfect man in mind."
"There's no such thing," Riley muttered.
"The one I have in mind for you will be," Santa said, drawing her onto his other leg. "You be on the lookout. You're going to find yours in quite a memorable way."
Noel gets a shock when Santa tells her she's already met the man of her dreams and she begins to wonder if it could be handsome house-flipper Ben. She doesn't want it to be so, considering he's also the guy who's buying the house she's been renting for a couple of years. The sweet little home that she envisioned buying one day soon. But with some fashion help from Jo and a pep talk from Riley, maybe Noel can make both situations work out to her advantage.
He shook his head. "Cute and funny." Then he sobered. "I wish we'd met under different circumstances."
That statement didn't bode well. It pretty much said, "I like you, but I'm still going to sell your house out from under you for an obscene profit."
Jo is so done being pregnant. If she could only have this baby already and see her feet again that would make her Christmas perfect. Well, that and having time with her husband Mike who's currently on a Navy submarine…somewhere. His talk of reenlisting just after their first child will be born isn't helping Jo's stress levels, that's for sure. But she doesn't want to lose what she and Mike have either. Maybe there's a way they can figure out a compromise that will keep their family happy and safe, after all.
'Their marriage wasn't simply about her and what she wanted. And it wasn't just about what she thought was best for them. She and Mike were a team, and lately she hadn't been much of a team player.'
Sheila Roberts poured on the holiday charm with her newest standalone romance, Three Christmas Wishes. Friends, family and all kinds of magical and amusing mayhem made this a fun story to read as we head into the holiday season.
If you've ever read Roberts' Life in Icicle Falls series then you know that she can perfectly capture how intricate and complicated relationships are. Especially in small towns where everyone is aware of everyone else's business. That was the vibe in Three Christmas Wishes. We had three lovely women who were at different places in life but who were all facing some type of big decision or change. And while this didn't get down to the really tough, involved emotions they went through (it stayed on the lighter side) I could still easily sympathize along with each character and the struggle she faced.
I thought the premise behind this was a pretty fun one, with sisters Riley and Jo, along with their friend Noel, all getting informed by Santa of things to come in their near future. Poor accident prone Riley and her dream wedding that wasn't meant to be actually had some of the most comical moments of the book. I loved the resolution for all of the women, but for her it was such a sweet, wonderful ending after all. Her older sister Jo was kind of a no nonsense gal and I really liked how she worked through her issues with her hubby wanting to reenlist in the Navy. And Noel, was also rather quirky and accident prone in an endearing way. Her attempts to charm a certain guy didn't always go as planned but her efforts worked out nicely in the end.
With a lighthearted storyline and a quick pace, this cute & cuddly romance hit just the right spot. I think fans of holiday-themed books set in small towns will have a great time with Three Christmas Wishes.
Book Info:

Publication: Expected publication: October 18th 2016 | MIRA |
Three friends, three wishes—one Christmas!
When three friends visit a shopping-mall Santa on a lark, the jolly old elf is full of mysterious predictions about the thing they're all wishing for: the perfect man. Or at least men who are perfect for them.
Riley Erickson's fiancé turned out to be a dud, dumping her for her bridesmaid three weeks before the wedding. But Santa says that she's soon going to meet her ideal man in a memorable way.
And he predicts that a new man is about to come into Jo's life. What on earth does that mean? She's pregnant and already has her hands full with the perfectly stubborn husband she's got.
Noel has given up completely on ever finding her perfect match. But apparently Noel is going to get a good man to go with that house she's trying desperately to buy.
These friends are about to discover that Christmas wishes can come true, because in spite of romantic setbacks and derailed dreams, this truly is the most wonderful time of the year!