Her Soldier's Baby by Tara Taylor Quinn: What a treat to have the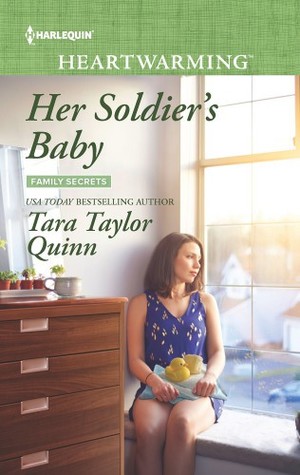 opportunity to read and review this second book in the "Family Secrets" series! Tara Taylor Quinn is a gifted storyteller!
Eliza and Pierce share a very special, enduring, though in some ways fragile, love. Originally teenage sweethearts, they were separated when he enlisted, and reunited years later. The story opens with Eliza heading to California to compete in a cooking competition, but also with the secret purpose of searching for the child she gave up for adoption. She feels she must keep it secret because her husband Pierce doesn't know he fathered a child when they were teens, and because he does not want to have children. His experiences in the war zone have caused him severe post traumatic stress which brings about horrific nightmares. He also feels that he will never be "good enough" for Eliza as her father never approved of their relationship. As Eliza progresses through the competition, her dishes receive great acclaim from the judges, yet there are "incidents" that threaten to sabotage her chance of winning. She and Pierce must find out who is behind these incidents.
Tara creates very real, deep characters who feel like they could be the readers' friends, very relatable characters. I definitely recommend this!
Book Info:

Publication: November 1, 2016 | Harlequin Heartwarming | Family Secrets #2
The baby she gave up for adoption long ago is a secret Eliza Westin has concealed from her husband. With good reason. Wounded soldier turned police officer Pierce Westin was Eliza's high school sweetheart. He's also her son's father.
Seventeen years ago, Pierce went off to war unaware that he'd fathered a child. Eliza's shot as a contestant on the Family Secrets cooking competition show is her chance to reconnect with the past. But once she finds her long-lost son, she can only hope that Pierce will embrace their newfound family. Or will Eliza lose the love of her life all over again?