Three Weeks with a Princess (The Improper Princesses #2) by Vanessa Kelly: Illegitimate daughter of a Prince and an actress,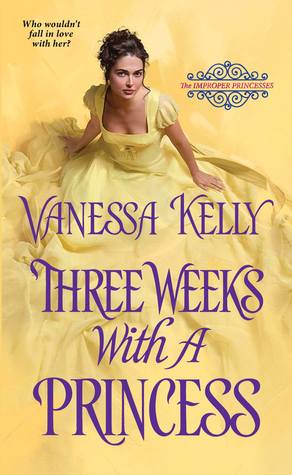 who is the daughter of a courtesan, what could possibly go wrong with the death of her protector? Only everything.
So now a lovely young lady, county born and bred, must find a way to support herself and her grandmother. Will she become an actress like her mother or a courtesan like her grandmother? Or will her best friend since childhood who just happens to be a Lord, and the son of a very high stickler, come to her rescue?
This novel by Ms. Kelly is part of the Improper Princesses series and while it can be read as a stand alone it really shouldn't because you should just read everything she has written because it is just amazing.
In this particular story she has created this really wonderful love story that revolves around an incredibly complex young lady character who is ready to steal the show with very little effort. One thing that you should look for though is that there are all sorts of little hints to bigger things. For instance the title has this amazing back story. This is truly another smashing story for Ms. Kelly. She really hit this one out of the ball park.
Book Info:

Publication: Published June 27th 2017 | Zebra | The Improper Princesses #2
Lia Kincaid, illegitimate daughter of the Duke of York, comes from a long line of notorious women. Raised by her grandmother, formerly mistress to the late Marquess of Lendale, she has little hope of a respectable marriage. But the new marquess, her childhood friend, Jack Easton, would make a very desirable protector . . . if he weren't too honorable to take her to bed.
It's bad enough being saddled with a title he never desired. Now Jack must resist the beautiful woman he desires far too much. Duty calls, and he is duty-bound to choose a wealthy bride. But then Lia makes another outrageous suggestion: asking Jack to devise some tests to find her the perfect paramour. Tests that involve flirting, kissing, and other pleasurable pursuits. Tests that, in a matter of weeks, could transform friendship into the ton's greatest scandal, igniting a passion even duty can't deny. . .