I think it's been a while since I've read something that has a character that I can really identify with and even understand the issues between the characters in a book. Ticket Home by Serena Bell, another installment of the Strangers on a Train series, is one of those books and it really hit the mark for me.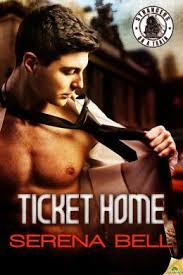 Amy is our heroine in this one and I really liked her. She seems like a real woman. Normal, average. She goes to work, comes home to her man and tries to be as happy as she can. The only problem Amy really has is that her boyfriend, who she lives with, is always preoccupied with his job. He may be there physically but he sure isn't there mentally. And when Amy tries to talk to him about an amazing job opportunity in New York (they live in Seattle), he just shuts her down and says no. No discussion, nada. So Amy takes matters into her own hands, packs up and takes off for New York. And that's why I liked Amy right off the bat: she's only going to take so much shit before she decides that she's had quite enough and does what she wants to do. Is that immature? Maybe. But I loved her for it. It's tough enough to leave a man who is pretty great overall. And then to move across country for a new job? By yourself? Even more tough. So you can say that Amy's behavior is immature if you like but I still loved her moxy!
Now, Jeff is another matter. Of course, I didn't like him at all when we first meet him. I felt like he was smarmy and cocky and I was just like "Oh puh-lease dude!" See, he shows up on Amy's commuter train after six months of her being at her new job. He's there to do whatever it takes to get Amy to come home with him… But maybe not the one thing she needs him to do. Jeff owns this company and not only does he own it but he and a friend built it from the ground up. So he's involved in every single aspect of the inner workings. His phone is constantly ringing and he's constantly answering it. Amy feels like she comes second in his life and she's just not willing to be second anymore. Jeff needs to be willing to step away from the company a little and he just doesn't think he can do that. But the more he works and the harder he works to win Amy back, I found myself liking him that much more. You can see that he's sincere and that he really HAS missed her. You get these little glimpses of what they are like together and they are a really great couple. So half way through the novella, I was actually rooting for this guy!
Although Jeff doesn't start out as the most sympathetic character, I love the fact that he grows on you. That's a story element that I always like to see: when a character realizes the mistakes that they've made and they work to fix those mistakes or at least make up for them. Also, I love that even when Amy's resolve starts to weaken, she still manages to REALLY put her foot down and stand up for herself and for what she wants. There's not much worse than when a character you're rooting for just goes along with the flow. I want my characters to fight for what they want! Maybe it's because in real life, we can't always fight for what we want and we DO have to go with the flow. It's nice to live vicariously through these books, right??
Overall, I thought this was really well written. I enjoyed the POV switches throughout so that I could get a better sense of who Jeff was and what he was really trying to accomplish. There was a couple of laughs and few really sweet and moving scenes. It wasn't too hot and steamy but this one certainly won't leave you cold! I would definitely recommend this novella!
Book Info
Publisher: Samhain Publishing, Ltd. (April 2, 2013)
Is that a cell phone in his pocket…or is he just happy to see her?
A Strangers on a Train Story
When Amy Moreland left Seattle, she never expected to see her workaholic ex-boyfriend again. Encountering him on her Connecticut-to-New-York-City commute is the surprise of her life. He seems hell-bent on winning her back, but every time his cell phone rings, it's a painful reminder of how he failed to put her first.
Jeff Havers can't help that his phone keeps interrupting his carefully composed apology speech, but having Amy sic the Metro North security team on him is a bit much. Once he talks his way out of handcuffs, he focuses on coaxing Amy to talk about the fears that drove her away.
As the train ride takes them through the landscape of their lost life together, sparks fly and remembered heat reignites. But if they're not brave enough to overcome the still-fresh pain of old wounds, it could be too late to pursue what really matters–their ticket home.
Warning: This book contains steamy train-car action, sex on the stairs, and a hero determined to give his velvet-and-heels-clad woman exactly what she's looking for.
Story length: 19,000 words, or 78 pages.